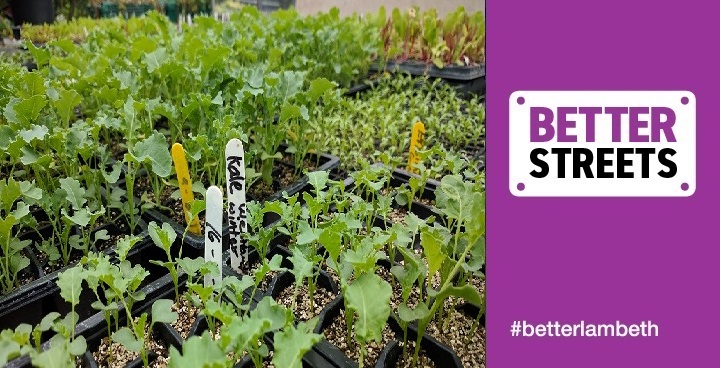 Myatt's Fields Park Project will give away free vegetable seedlings to community growing projects this spring and summer.
With funding from London Community Foundation, Lambeth Early Action Partnership and support from Urban Growth and Incredible Edible Lambeth, we grow seedlings in our greenhouse for food growers across Lambeth.
Who can apply?
The list is long – not-for-profit or community food growing projects in Lambeth, such as residents' groups, tenant associations, schools, nurseries, colleges, community gardens, community centres.
What's included in the offer?
A planning day in March or April at the Myatt's Fields Greenhouse
Two free sets of seedlings to be collected in spring and summer (fillers if needed in between)
Top tips on planting and caring for the seedlings
Invitation to a planting day in spring at Myatt's – and more lunchtime networking
Membership of Incredible Edible Lambeth
Growing for children
Five projects working with children four years and under in Vassall and Coldharbour wards can also apply for three free onsite training sessions with our Community Gardener – first come, first served.
Planning sessions
Book now to join our Community Gardeners at a planning day in Myatt's Fields Park. Draw up a planting plan for your site, order your seedlings, network with other gardeners over lunch
Saturday 3 March: 10am – 12.30pm & 1.30pm – 4pm
Thursday 8 March: 10am – 12.30pm & 1.30pm – 4pm
Saturday 17 March: 10am – 1pm (Groups working with children under four only
Thursday 5 April: 10am – 12.30pm & Thursday 5 April: 1.30pm – 4pm
---
For more information
Myatt's Fields Park Project (MFPP) charity work in partnership with Lambeth Council. Myatt's Fields is a 'Pioneer Park', receiving support to become financially sustainable by hiring out spaces for events, working with businesses and partnering with community groups. Our mission is to grow a green and healthy neighbourhood.