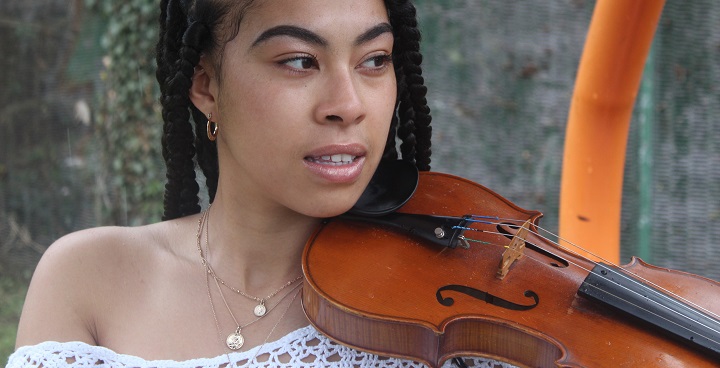 This year's Herne Hill Music Festival stars local performers and worldwide music, supports local charities and local heritage. It's 21 events, more styles than ever and many venues.
Festival Timetable October 2019
Friday 4
Half Moon pub modern jazz and tributes from Herne Hill locals Becky Handley's band.
2019 approach to "contemporary classical music", live electronic performance from nonclassical composer Gabriel Prokofiev, at Off The Cuff.
Saturday 5
Local first time musicians invited to Wind and Brass Playday at St Faith's church
Music for younger players at Methodist Hall, facilitated by an inspirational musician/leader. (sign up online).
Gypsy, Jazz, Classical, Indian, Turkish and Balkan on accordion and violin from Faith I Branco,  Off The Cuff.
Sunday 6
Off the Cuff hosts the UK's largest Junior Open Mic– all welcome, free event.
Danzon – Blues Guitar Duo, Community Greenhouses Brockwell Park.
Choral tunes by Bruckner and Rutter as part of evensong – free at St Faith's church.
Monday 7
Week 2 opening jazz jam  Off The Cuff – all invited.
Tuesday 8
Real ale at Canopy Beer pub plus Celtic tones of Rob Corcoran & the Necessary Evils.
Wednesday 9
Bicentenary of  writer John Ruskin, Herne Hill resident, with the Herne Hill Society. Ruskin's poems as songs for tenor and piano, plus works by composers he loved and despised, Herne Hill United Church.
Thursday 10 
Listen to the River – Paul Ayres' musical (from Ruskin's children's story  'King of the Golden River') performed by  St Saviour's Junior School pupils.
South East London Folk Orchestra, evening of tunes, songs and ceilidh.
Friday 11
Final weekend begins with Nu-Phonic quartet, original contemporary jazz at the Half Moon.
Saturday 12
Coffee morning with the Carlton String Ensemble quintet at Herne Hill United Church, donations appreciated in aid of Norwood and Brixton Food Bank.
St Faith's Church, four local community choirs – from pop hits to musicals and gospel!
7:30pm Alexandra Lomeiko and Alexandra Vaduv violin/ piano Sonatas by Ravel, Greig, and Beethoven, on behalf of development charity Practical Action.
Sunday 13
Final day afternoon Family Concert with Just Kemi Music (pictured) at Brockwell Hall, a journey with the violin and other string instruments.
Just outside, on Brockwell Park's performance space, free open air concert from South London Jazz Orchestra , followed by Nkomba, a contemporary African Folk band performing Malawian folk songs and African roots music.
St Faith's Church, Harold Lloyd's silent classic  'Safety Last' with live piano from Ashley Valentine.
For more information
For times, ticket prices, booking details and more see the Festival's information pages