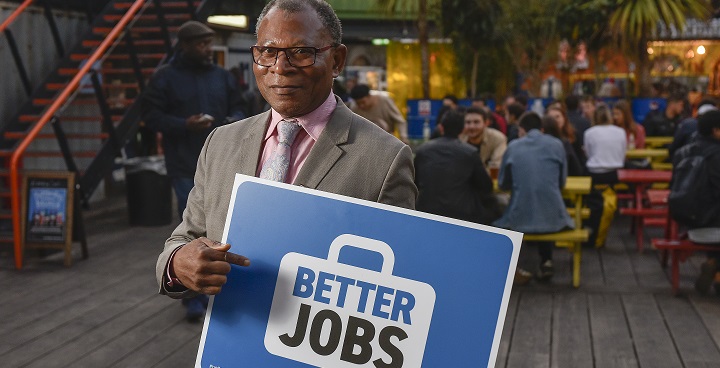 Since its launch in May 2015, Pop Brixton has transformed the site in Popes Road, Brixton into a vibrant venue that has boosted local business, supported social enterprise and created more than 200 new jobs.
Lambeth Council has published an independently produced Impact Study that shows that the project now adds an additional £9million of value to Brixton's economy each year, through support of local businesses and a commitment to social enterprise in the community.
The news signals success for Make Shift, the team behind Pop Brixton, whose aim is to transform disused and derelict spaces to create new opportunities for small businesses and local people.
Success
Pop Brixton was created to offer talented local entrepreneurs the space and support needed to get their ideas off the ground. The Impact Study commends the project's success in acting as a platform for local entrepreneurs providing much needed affordable space and support for start-ups.
Pop's membership is made up entirely of independent businesses, and they are committed to a minimum of 70 per cent occupancy by businesses owned by Lambeth residents.
The study concludes that Pop's members share more than £18million in revenue each year, with eight traders having gone on to open sites elsewhere.
The study notes that this ethos extends to Pop's members, 75 per cent of surveyed members said that being at Pop has influenced their approach to hiring locally, leading to local residents filling around 75 cent of the 200 jobs supported by the project.
Beyond employment, the Impact Study suggests the success of Pop Brixton and its members has had a direct impact on the wider local economy. The average trader now purchases 41 per cent of produce locally and it is estimated that for every £10 spent by visitors at Pop Brixton an additional £5 is spent within Brixton.
Word from the Cabinet
Cllr Matthew Bennett, Lambeth's Cabinet Member for Planning, Regeneration and Jobs, said: "We were determined from the outset that the project would deliver a range of community benefits. Two-years on it has proved to be a great success, boosting local trade, enterprise, employment and training.
"The evaluation shows more than 200 jobs have been created, £9 million per year generated for the local economy, 200 community events held and nearly three quarters of businesses at Pop are owned by Lambeth residents. The fact that Pop Brixton has enjoyed 1.6 milllion visits in its short life so far is also testament to its huge appeal. For all these reasons and more I am delighted to agree a two-year extension to Pop Brixton's lease."
Sharing skills and space with the local community
The Impact Study also highlights how Pop operates as a business with a social conscience. Pop offers 10 of its units at a 50 to 80 per cent discounted rate to startups and social enterprises, creating a platform for young entrepreneurs and early-stage ventures.
These members include six social enterprises, including Bounce Back, a charity offering training and employment opportunities for ex-offenders, and Reprezent Radio, a youth-led radio station launched as an incubator for young talent which was recently visited by Prince Harry and Meghan Markle. Pop has also provided free space for over 200 community events since launch.
A traders view
Sarah Bennett, the owner of Make Do & Mend, said: "It has enabled me to establish a really strong customer base within the community, but also build connections with other makers, artists and creatives.
"The concessions we stock are all local independent makers and designers. Through the vintage and makers markets hosted at Pop we have given many local artists and makers and platform to sell in a high footfall environment."
A unique element of the Make Shift model is a Community Investment Scheme, a social contract that all its members enter into, pledging a minimum of one hour per week to participate in projects that positively impact local residents.
The Impact Study credits the initiative for providing more than 5,800 hours of local training, business support, fundraising and community initiatives over the past two years. Through this scheme, the benefits of the project are extended beyond Pop's members and shared with the community, creating new opportunities for local people.
Lessons learnt
Charlie Gent, Marketing Manager, Make Shift, said: "We are absolutely delighted with the decision to extend our lease until 2020. Pop Brixton was a truly experimental project, the first of its kind, so it's fantastic to see the positive impact we've had.
"We've learnt a lot of lessons along the way and have worked constantly to improve and help more people from the area. It's incredibly satisfying to see the hard work pay off with a decision like this. We are so proud of all the local entrepreneurs who have called Pop home over the past two years, and of their commitment to working with other local people and community groups."