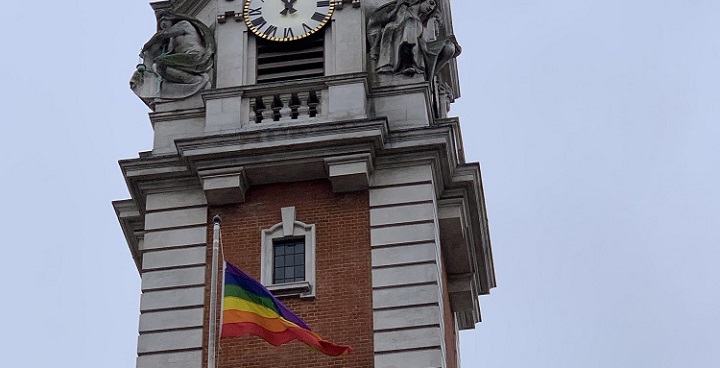 The rainbow flag, symbol of LGBT+ Pride, will fly from the Town Hall flagpole all June, to mark Lambeth Council's commitment to Equality, Diversity and Inclusion.
Word from the Cabinet
Cllr Sonia Winifred, Lambeth Council's Cabinet Member for Equalities and Culture, said: ""I am very pleased to support LGBT+ Pride month especially on this historic 50th anniversary of the Stonewall riots. Events are happening across the borough. Lambeth is home to one of the largest LGBT+ communities in the country who continue to enrich our vibrant borough. Lambeth Council has a strong track record of championing our LGBT+ community in all aspects of life including culture, health and employment and are committed to continuing to support and celebrate our LGBT+ residents."
Culture
"We successfully campaigned to protect historic LGBT+ venue the Royal Vauxhall Tavern (RVT). Pride Month events across the community include Queer Writing from Europe in Brixton Library on Thrsday 6 June.
Health
"This year the LGBT Foundation began work with Lambeth GPs and pharmacies to introduce Pride in Practice to strengthen Primary Care Services' relationship with LGBT patients. Lambeth leads HIV prevention across London and has recently extended the London-wide PrEP (Pre-exposure Prophylaxis) trial and lobbied the government to fund the drug's universal availability so that we can eliminate the transmission of HIV in Lambeth and London by 2030.
Employment
"Earlier this  year we were very pleased to be accepted into the Stonewall Diversity Champions group of employers as part of a wider commitment to Equality, Diversity and Inclusion."
For more information
During Pride Month colleagues at the council and the LGBT Foundation will continue actively getting GP practices and pharmacies signed up to train and gain accreditation for reducing health inequalities for LGBT patients in Lambeth. See the LGBT Foundation's information pages
LGBT+ in Lambeth Libraries
Lambeth libraries will host LGBT+ events all over the borough – we invite everyone to join the party! LGBT readings and authors featured in the May/June Readers and Writers festival. Now, as well as LGBT+ books for everyone and Rainbow craft sessions, the fantastic Drag Queen Storytimes for under 5s and Drag King workshops for adults return. Check your local library for times and dates.
Topsie Redfern was a storyteller in February for LGBT+ history month: "We never mention sexuality but "It's OK to be different" is a really important message. By age 7, boys and girls have fixed ideas about jobs they can do, colours they can wear, who can and can't cry. This is a way of challenging that with stories about the brave Princess saves the prince, or the Yeti who wants to be a unicorn and how his family come to be cool with that. I remember wishing I had role models, and now we're role models for being unconventional".
"Mansformation" Four week Drag King course
Pecs Drag King Collective explores expressions of gender through performance, particularly masculinity, in the form of drag 'kinging' (the opposite of drag queens!). We explore body, movement, voice, and character detail to build a drag king persona, with guides and tips on face, contouring, binding and costume. It's for total beginners as well as performers, and is for people of all gender identities. Book now. There's a chance to show off your drag king persona (but only if you want to) at the end of July.
Lambeth shares the Rainbow
Businesses across Lambeth will place rainbow stickers in windows to show support for LGBT+ people.
Rainbow stickers and posters will share the message of Pride in Lambeth's offices.
We've given over 2,000 rainbow lanyards to Lambeth staff and schools. We encourage everyone to wear one to show support.