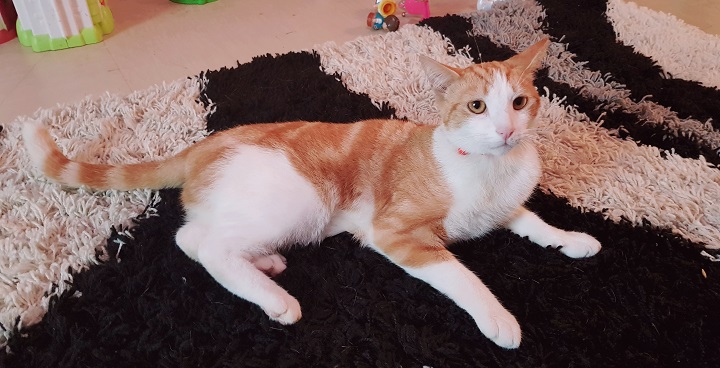 Mum Tracey tells the story:
A cat like clockwork
O' Malley is ginger and white, just like in Disney's Aristocats. He's 18 months old and he's really good therapy for my autistic daughter Scarlett. He comes in for meals like clockwork, and he's always there to be petted before she leaves for school and comes for a cuddle at lunchtime.
Broken routine
When we didn't see him on Thursday night we started to get a bit worried about him missing meals and by Saturday Scarlett was very stressed by her broken routine. On Sunday I posted his picture on Facebook, and we searched the whole estate, calling his name and carrying food.
In the bin
We searched again after Scarlett went to bed and my partner said "I can hear him in the bin. He can't have got in there on his own". I got a torch and we could see him. The Fire Brigade arrived but couldn't get him out without breaking the bin open. I slept by the bin all night to make sure no-one dumped any more rubbish on top of him.
The extra mile
I rang Veolia at 7am on Monday and they promised someone there as soon as they could. They said the bins had been emptied on Thursday so someone must have put him in there on Thursday night. They confirmed it was impossible for a cat to get in to the aperture and the mechanism close by itself.
Rescue
They came with the crane that usually lifts recycling bins onto the truck and said they'd raise it off the ground the minimum so O'Malley didn't have far to fall. Veolia Driver, Kevin drove the vehicle up to the pods and extended the stabiliser legs.  Veolia Operative Jakub controlled the crane, carefully lifted the pod and slowly opened the base flaps. The waste began to fall out and soon we were able to reach in and wrap him in a towel before he could get hurt.
Customer service plus
I took him to the vets while Veolia tidied up. He was very dehydrated but no broken bones. He's back to his normal self but we're worried that someone could be doing the same to other cats. Without Veolia he might still be down there. I can't fault what the council and their partners did – I didn't expect them to come out on a blazing hot Bank Holiday Monday for just a cat.
---
For more information