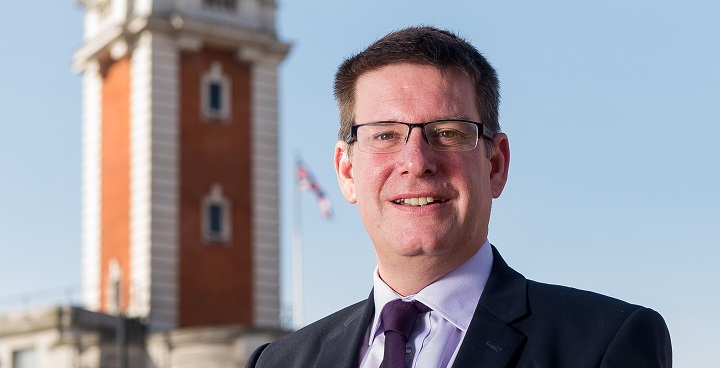 Lambeth Council's new chief executive, Sean Harriss, has been in the chair for three months now. He has been getting used to the benefits of living and working in Lambeth, but also grappling with the many challenges that come with running an inner-city London borough. We asked him for his early thoughts on life in Lambeth.
Q: How have you found it so far?
A: Lambeth's rich in history but forward-looking and I think that's underlined by the scale of regeneration and development which present fantastic opportunities but challenges too. One of those is to make sure local people, particularly the most disadvantaged residents benefit from that growth and investment in the borough.
I've been struck by the excellent joint working between the council and local people – residents, businesses, community groups and organisations like the NHS and the police. I want to build on these relationships as they are our greatest resource.
Q: What about the financial challenges?
A: Everyone knows there have been huge cuts to our core funding so we have to continue to make savings and consider carefully how we use the resources we have for the greatest benefit. That's why the investment that's coming in to Lambeth is so important and I feel there's a real sense of a place going somewhere – we need to make sure that people don't get left behind.
Q: What about the day to day challenges of a new job?
A: The biggest challenge for a new Chief Executive is getting up to speed with the organisation, the place and the issues facing the borough. It's certainly been a busy first couple of months and I've tried to get around the borough, meeting as many people as possible.
Lambeth has great staff, community organisations and partners and I've felt very welcome.
Of course there are highs and lows – I wouldn't expect anything else in a borough this size and with so much going on. For instance, the Ofsted report into Children's' Services was disappointing but we're tackling those shortcomings and on the flip side of that disappointment is the energy and excitement of Pop Brixton opening. So it's always a mixed bag of success, disappointment, new challenges and opportunities.
Q: What will success look like for you?
A: For me success is about improving life chances for all our residents. If we can improve the quality of life of local people whether that's community safety, education, jobs or health – that will be what success looks like for me. That means continuing the progress of our journey, through the projects and priorities we've agreed with very clear aims and measurable results. On a personal level, getting to know more of the borough's geography, history and hidden treasures and meeting people
Q: What's your style of leadership?
A: I'm very enthusiastic and can-do and would describe myself as a people person.
I've got high expectations and want the organisation to pull in one direction, to be clear about our priorities and concentrate on those issues that will make the biggest difference to local people. People often describe me as being very supportive but with high standards. I would hope that I am starting to make a real difference on the ground.
Have you got any questions for the new chief?
What do you think his priorities should be?