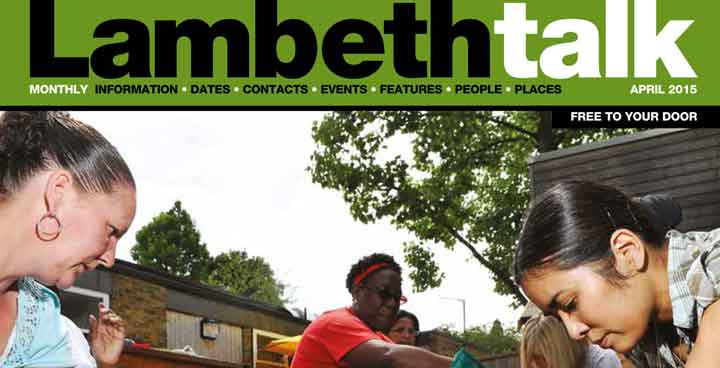 This month we welcome Sean Harriss, Lambeth Councils new Chief Executive. Sean shares his thoughts on taking on this exciting and challenging role on page 3.
If you would like to have your say on how the country is run in the next general election on Thursday 7 May, then take a look at page 7. Remember if you're not registered to vote then you can't vote! So make sure you register by midnight Monday 20 April, by visiting www.gov.uk/register-to-vote
Lambeth was recently awarded Food Flagship status and is one of only two London boroughs leading the way in tackling child obesity and health and social inequality. On page 8 you'll find out how Lambeth is working towards a healthier future.
April marks the 50th anniversary of the creation of the London Borough of Lambeth. On page 12 and 13 we tell the story of how this came to be and how we grew in size to become the largest London borough in terms of population.
On pages 18 and 19 we hear from the Coin Street Community Builders, a social enterprise created by local people who spent years campaigning to turn a derelict site into the thriving, mixed-use neighbourhood it is today.
Volunteering is enjoyed by hundreds of people in Lambeth and on pages 20 and 21 we give you a few more ideas whet your volunteering appetite.
In our regular what's on guide we have exhibitions, competitions, fundraising events and exercise classes to name but a few – see pages 22 to 24.
Download Lambeth talk April 2015.
Have an idea for Lambeth talk?
If you have something you want to tell residents and local businesses about or if you know of someone, a project or organisation in the borough that you think would be great to feature in Lambeth talk let us know.
Email lambethtalk@lambeth.gov.uk or leave a comment below