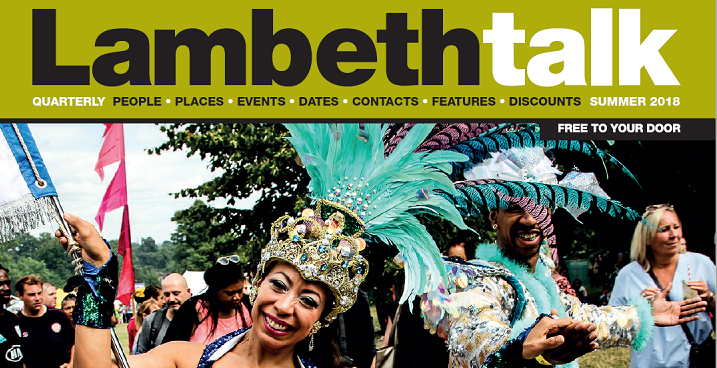 In this edition
Lambeth Clean Air week 18-21 June. Find out how we can work together to improve air quality.
Windrush 70. A series of events and celebrations, performances, exhibitions and debates,  take place to ensure that the Windrush legacy lives on for future generations. Visit the Harry Jacobs exhibition in the Town Hall and win free tickets for BFI Southbank's 'Windrush Women'.
Lambeth's new cabinet. 57 Labour, 5 Green and 1 Conservative councillors were elected to the council following the local election in May. Cllr Lib Peck will be Leader of the Council continuing from the last six years in the position. Find out who are the cabinet members and their responsibilities.
Meeting your Mayor. The new Mayor of Lambeth Cllr Christopher Wellbelove returns to the parlour for a second term. His support this year will be focused on mental health charity Mosaic Clubhouse.
Brixton creatives unite. A new Creative Enterprise Zone project for Brixton will be developed after Lambeth Council successfully secured double funding boost from City Hall.
The annual Lambeth Country show returns to Brockwell Park for its 44th edition on Saturday 21 and Sunday 22 July 2018. With a unique line-up that celebrates the very best of the city and countryside. Get involved and enjoy the fun.