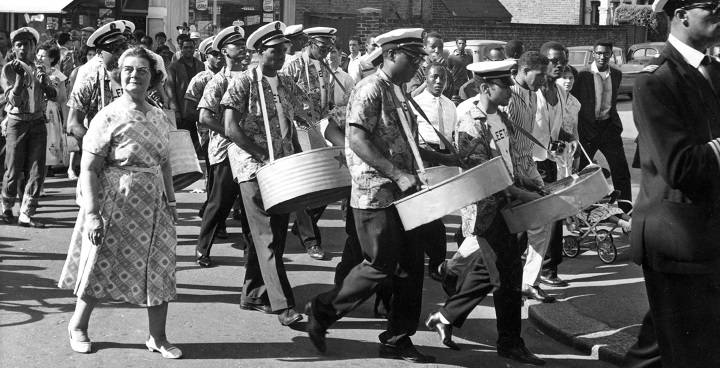 The photographs, all taken by the portrait photographer of the time, Harry Jacobs in his south London studio, show a variety of individuals and families who had arrived in Britain and settled in the Brixton area.
A Snapshot of Brixton: Harry Jacobs and the Empire Windrush is at Lambeth Town Hall, 1 Brixton Hill, London SW2.
It opens on Friday 25th May and runs until Friday 6th July. Open Monday – Friday, 8am to 8ppm
A brief history
In the summer of 1948 the Empire Windrush docked at Tilbury. Of the 1,000-plus passengers she had brought from the West Indies, over 300 would find their way to Lambeth, first staying in temporary accommodation in the Underground deep-shelter on Clapham Common and some then making their home in Brixton.
One reason these young settlers were attracted to Brixton was because of Gus Leslie, a Jamaican landlord with accommodation to let in the streets around Coldharbour Lane. This area of Brixton quickly became the nucleus of the Jamaican community in London and, by the 1960s, two streets in particular, Somerleyton Road and Geneva Road, had the highest levels of West Indian home occupation and ownership in the whole of the UK.
In 1946, two years earlier, a young Londoner had just returned from the War. Harry Jacobs came from a Jewish family in the East End but was now living with his mother in South London. Fed up with running his jewellery stall in Brixton Market and looking for a new business venture, Harry acquired a camera and walked these same streets off Coldharbour Lane, knocking on doors and offering to take portrait photos.
He quickly became the de facto portrait photographer for the new West Indian community. He started by taking shots of families posed in the corners of their front rooms; later he acquired a studio in neighbouring Stockwell from which he continued to photograph local people in front of his distinctive yet never-changing studio backdrop for another forty years.
In this, the 70th anniversary year of the Windrush voyage, A Snapshot of Brixton: Harry Jacobs and the Empire Windrush uses Harry Jacobs' work as a document of the experiences of the 'Windrush generation'. Photography was expensive and few people could afford their own cameras in the 1950s, so the role of the studio photographer then was to depict people as they wanted to be seen. As well as celebratory images of family groups, new babies and weddings Jacobs' photos show the sitters in their new uniform of work: nurses, lawyers or transport workers, or holding certificates. These photographs, mounted on printed card frames and sometimes expensively hand-tinted, would be sent back to family in the Caribbean as evidence of 'success' in England.
If the Jacobs photos mostly present a positive self-image, then this exhibition, using material from Lambeth Archives and other collections, goes on to explore some of the other more contradictory experiences of these new arrivals. On the one hand Lambeth council, in contrast with every other London borough, was unusual in officially greeting the Windrush passengers and holding events like an interracial tea dance. Set against the official welcome was the grimmer economic reality of finding work and housing in post-war Britain, of fascist street meetings in Brixton and of suspicion and wariness that crossed over into racism on the part of some of their white neighbours.
A Snapshot of Brixton also explores some of the community's responses to that negativity, both through entrepreneurialism and the setting up of black businesses in Brixton, and of activism as seen through the work of figures like Billy Strachan and Claudia Jones, the founding editor of the Brixton-based West Indian Gazette.
---
Harry  Jacobs and the Empire Windrush Lambeth Council event page.