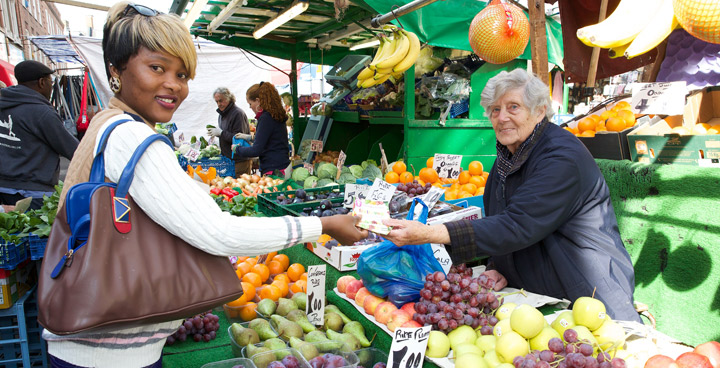 A brand new healthy eating initiative has launched in Lambeth, giving local families access to free fruit and vegetables. 
The  initiative will support a minimum of 100 Lambeth families by providing Rose Vouchers that can be redeemed at participating traders at Brixton Market and in West Norwood. Rose Vouchers support families to adopt healthier lifestyles in the crucial years before school starts. An evaluation undertaken by independent researchers, shows the intervention is effective in increasing uptake and variety of fruit and vegetables in both children and their parents.
Local children's centres will help to identify families with young children who are living on low incomes and could benefit most from the scheme. These families will also receive additional support such as cooking classes to build their skills and confidence.
London Live came along to the launch in Brixton Market and interviewed Jonathan Pauling, Chief Executive of Alexandra Rose Charities and Rosie Boycott, Mayor of London's food advisor. See the interview here.
The project runs in partnership with the Lambeth Food Flagship programme; part of a wider initiative to make Lambeth's food culture healthier and more sustainable. The Food Flagship project, funded by the Mayor of London and the Department of Education, will deliver a range of initiatives to get residents eating healthier, more nutritious food over the next two years.