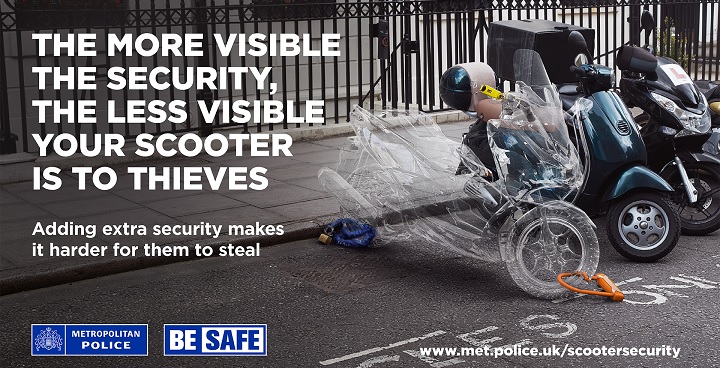 In the last year, there's been a significant rise in scooter, motorcycle and moped-related offences across London. Over 15,000 motorcycles and scooters were stolen – that's over half of all vehicle theft in the capital. And stolen two-wheelers have also been associated with a lot of other crimes – many of them brazen and dangerous.
Scooter security
The Met Police have launched this campaign in partnership with Lambeth Council to encourage scooter riders to use more security. Scooter owners are being targeted because they have so far been the least likely to invest in solid anti-theft devices and locks for their vehicles.
Invisible to thieves
The campaign message is: "The more visible the security, the less visible your scooter is to thieves; adding extra security make it harder for them to steal."
This campaign message is advertised in top scooter theft hotspots and parking bays across Lambeth. Stencils were installed in early October.
Reinforcing the message
In some theft hotspots across the capital, there will also be advertisements on buses carrying the message. These will be seen travelling around Lambeth, and other London boroughs. The Be Safe campaign is operating in support of Operation Venice, which is the Met's overall strategy to tackle motorcycle and scooter crime.
Bike and scooter security checklist
Parking: Choose designated parking with a stand and security loop, or if not available, park in areas with lots of people, good lighting and CCTV.
Locks: Use more than one lock, focusing on disc locks and chain locks, fitted tight and through difficult-to-remove parts.
Time: When leaving your bike or scooter for long period or overnight, lock it to something secure and use a motorbike cover. At home, consider using fitted anchors to secure it.
Attention: Use audible alarms where possible to draw unwanted attention to the thieves.
Marking: mark bike or parts with the vehicle identification number (VIN) number, your postcode or registration number using an ultraviolet marker pen or property marking kit.
Insurance: Some companies will offer discounts on your insurance if you invest in certain security measures, so ask before you buy motorbike or scooter insurance.
---
For more information