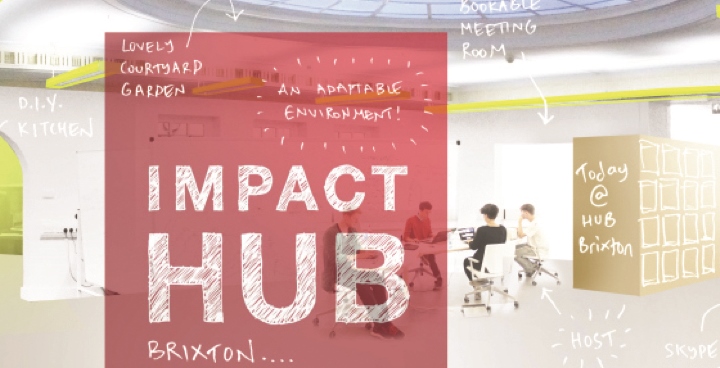 The Impact Hub will offer flexible access to "hot-desking" office facilities on a membership basis, for up to 60 people at a time.
A special trial offer for local start-up businesses and social enterprises will be available until 5 May: simply visit brixtonimpacthub.net for more information.
Bringing the space to life
Over 50 entrepreneurs have already expressed interest in joining or partnering with the Impact Hub, after organisers held a series of workshops in the space, which once served as a courtroom, a dancehall and a social club. Several have also signed up to help to establish the Hub and "bring the space to life".
Life coach Deborah Asante, who ran a session on the Hub's opening day, said: "I think that energy in itself is inspiring and then there's the potential for collaboration and sharing. My work as a facilitator is quite nomadic and to have a fixed creative space I can work in – that's not my home – will benefit me, my work and my clients as well."
Tobi Lawal, whose company "Tribethink" supports business start-ups across London and beyond, said: "When thinking is challenged and collaboration encouraged amazing things can happen, and it is great that this is now on my doorstep at the Hub Brixton. I'm excited to be a part of it and looking forward to contributing to its story."
Saving £4.5million a year
Lambeth's Impact Hub will be part of a network of over 40 Impact Hubs around the world including three in London. In addition to custom-built desks, the Hub will have facilities including a meeting-space, quiet working areas, a printer-scanner and lockers. The space will also be made available for events and hire.
The Impact Hub will be based in the Grade II listed building as part of the Your New Town Hall project, which will cut the number of core council office buildings from 14 to 2, to save at least £4.5million a year. You can read more about Your New Town Hall here.
Let us know what you think of the Impact Hub by leaving a comment below…