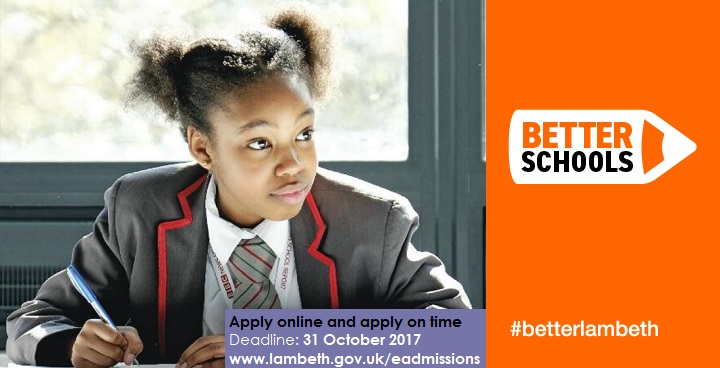 For the fifth year running, in 2016 every child in Lambeth whose application was on time received an offer of a secondary school place starting this September. Almost 80 per cent of Lambeth parents and carers who applied to a secondary school in the borough were offered a place at their first or second choice school.
If your child is due to start secondary school in September 2018, you need to apply for a place online now. The deadline is midnight on Tuesday 31 October 2017. If you miss this deadline your child's application will not be looked at until after National Offer Day, when the vast majority of places will have been filled.
Apply online and on time!
We strongly advise you to apply online:
it's free, easy and secure
it uses a quick, easy to use step-by-step format
your application won't get lost in the post
information can be checked online and changed at any point without the need to fill in another form
you can attach copies of paperwork you wish to be considered.
the online system is available seven days a week, 24 hours a day until midnight on Tuesday 31 October 2017
Last year, 95% of Lambeth residents applied online and all of these families received an offer of a place.
For full details of how to apply please see our online guide – applying for a secondary school place for 2018/19.
You can also view our Secondary Schools in Lambeth 2018/19 booklet.
---

See how you can get involved to help us create a Better Lambeth for everyone, through our key campaigns:
Read the latest Better schools news.