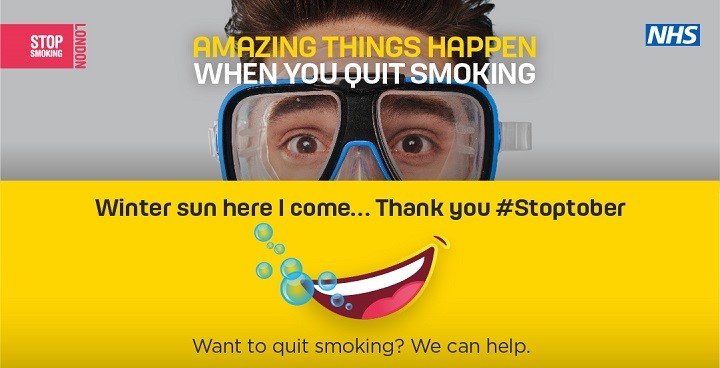 Public Health England data shows the number of smokers in London is among the lowest in England at 13.9% of adults still smoking. Latest figures for Lambeth show we're above averagely smoke-free, at 12.4%. Now Stoptober is back to help with the nation's biggest "break up with cigarettes" campaign starting October 1.
Four weeks makes you five times more likely to stop forever
 Paul Plant, Public Health England London director, said: "Although going smoke-free for four weeks might seem a challenge, those who are successful are five times more likely to quit for good. The support and resources offered by Stoptober are completely free, and those who quit for good will join the Londoners who are now smoke-free and healthier."
Break up with cigarettes
Stoptober's 'Break up' message talks about smoking like a bad relationship. TV's Nadia Sawalha says: "I used to joke that smoking was like giving up a bad boy lover. You think you're having the best times, but deep down you know they're no good".
Local Lambeth services
For many smokers want to quit, barriers include fear of failure. Smokers can get expert face-to-face support from local services, making them three times as likely to quit successfully as those using willpower alone. Smokers in Lambeth can get help from:
Smokers from specific 'at risk groups' (such as pregnant women or those with chronic health conditions) can also access additional free, specialist one-to-one behavioural support and NRT or Champix medication. For more information about how to access this service and who it is for, please visit the Guy's and St Thomas Trust website.
Smokers in Lambeth can get help from participating local pharmacies in the form of free face-to-face support (during the first six weeks of your journey to become smoke-free) along with up to 12 weeks of Nicotine Replacement Therapy (NRT) or Champix medication. To find a pharmacy near you see our council web pages.
Are you quitting smoking for Stoptober?
Family and friends' support is also an important factor in quitting smoking, and Stoptober encourages them to help someone split up with smoking. Make sure you stick to it by telling all your friends! Add this twibbon to your profile image here.
For more information