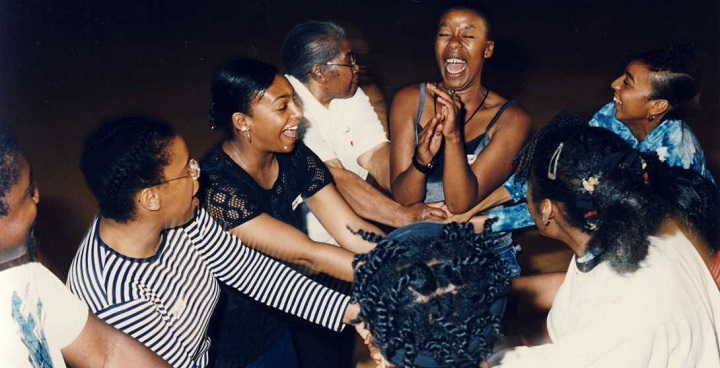 Tony Cealy has been running weekly workshops in Brixton to create poetry, dance, song, music, puppetry and drama ready for the Rapport Festival June 15 -17.
Making experience into art
The workshops explore themes like 'change', 'memory', 'journeys' and 'the future' and Tony, an experienced actor and community theatre facilitator, will help the group make them into different art forms – "Could that story work for storytelling, dance, drama?"
Self-expression
"I believe in theatre as a way to help people find solutions to community problems. I've worked with the Council on projects such as youth pregnancy. We know younger and older generations find it hard to be heard through art, so we want to create a weekend for people from the African diaspora to express themselves."
Growing stronger
Last year's Rapport Festival was funded and run by one person – Lara Samuels. This year, it has funding from Arts Council, Black Thrive and Brixton BID. They're planning shows at the Bowie memorial, getting interest from shops as performance spaces, and hoping to brighten up other Brixton hotspots with at least 4 performances over the weekend.
People and performance
"We advertised for dynamic performers and non-performers. Non-performers includes people who haven't performed since they were children, or feel they never had the chance. The group will raise them to take a spotlight. We're asking for commitment and sensitivity from our performers. The workshops need to be a space where people can bring all kinds of emotions. In the first workshop, one memory was Prince Charles visiting her home and having cold hands, but another's was about very severe illness."
Same streets, more stories?
"We were originally very focused on African/Caribbean heritage but I'd love to open the door to tell the stories of other cultures – the Irish people who my Mum said helped the Windrush community so much 70 years ago, the Latin American people who've arrived with their own stories of change and journeys more recently."
---
For more information