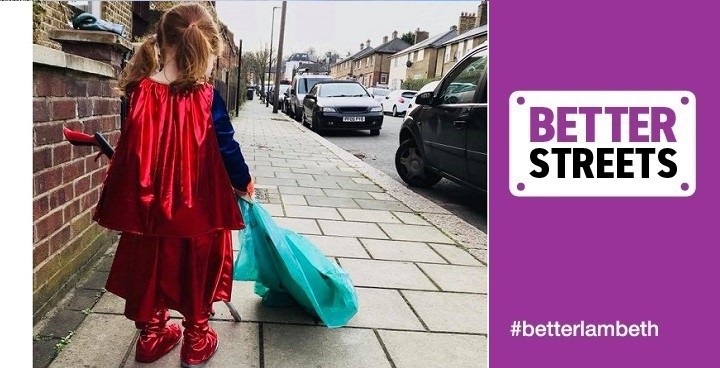 Being a Street Champion is as little or as much work as you like, and you get great support from Veolia and Lambeth Council. You get recognition, too: earlier this year, I was invited to a reception at Lambeth Town Hall with the Mayor celebrating what Lambeth Street Champions and snow wardens do.
Get stuck in – make a change
Jason Prentis, who co-ordinates Street Champions, started a Facebook group 'Greening West Norwood'. This was the impetus I needed – I'd been thinking about becoming a street champion since moving here two and a half years ago. A community pocket garden was created just down the road, and a book box appeared in a neighbouring street. It made me realise the community are out there trying to improve our local environment – and the best way to make a change is to get stuck in.
Freshview
Becoming a street champion was really simple. Jason popped round to visit my street. We agreed a freshview day to build planters and help neighbours spruce up their front gardens.
Learning about people
In the run-up to freshview day, knocking on doors and handing out posters, I learned more about the people I share an address with. Veolia provided repurposed scaffolding boards and compost. We built four planters. My two daughters, aged 1 and 3, were helping and that really drew out neighbours. It made our street feel more like a village than a south London road. People say it's a great sign that people care about the local environment.
 Offers to help
I've been out every evening during the warm weather to water. I've got talking to more neighbours – and some offered to help. I'd like to make more planters and I've been talking to local councillors about creating a local seedling bank to help reduce the cost of planting.
Norwood Collective
I've started an online campaign, Norwood Collective, which celebrates greening and community-led initiatives like the Street Champion scheme, West Norwood Gateway Garden, the West Norwood Bzz Garden, and other great projects in the area.
---
For more information
Please note: Photograph is by Esther Rees and is NOT to be reproduced without her permission