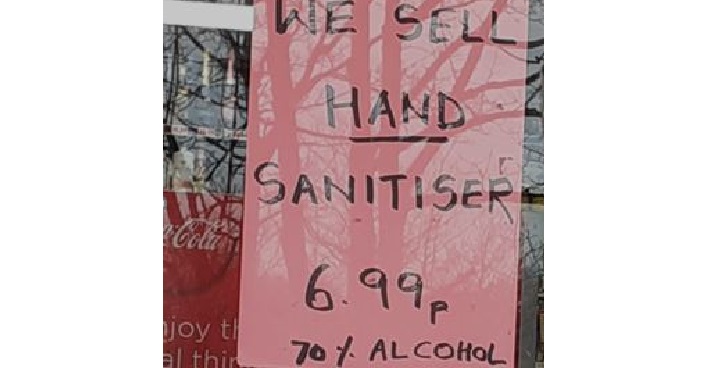 Trading Standards have seen time and again where there is a crisis, there will be opportunists ready to exploit consumers' anxiety and fear. The outbreak of Covid-19 has proven no different. However, thanks to tip-offs from proactive residents, your Trading Standards team have been taking targeted action.
Price gouging
Since mid-March we have been receiving reports of businesses inflating prices of everyday goods. This ranges from a report of an already opened box of disposable gloves offered at £80, hand sanitiser available to buy if you can stump up £30 and £12 for non-branded tray of eight paracetamol tablets that had been removed from their box. The reports are varied and concern food as well as cleaning products and personal protective equipment (PPE).
Visits
Trading Standards take these complaints seriously and have been carrying out visits across the borough in direct response to this crucial intelligence. We are also sharing this intelligence with the central regulator the Competition and Markets Authority (CMA) who have appointed a taskforce to take a nationwide view of the issue.
Unsafe PPE
During our visits the team have also been examining and identifying non-compliant PPE being offered for sale. More often, this relates to products that have no CE mark to show the product conforms with relevant safety standards. We have also found products with no importer/responsible person information meaning they are untraceable and even worse, products claiming it can protect against Coronavirus and has been endorsed by the NHS. We take a very dim view and have been seizing non-compliant goods. These products typically afford no protection whatsoever, unbeknown to the user, and therefore can be more dangerous than having no PPE.
Scams, fake fines and doorstep crime
We have also been alerted to various scams, such as the HMRC tax refund and the text message saying fines have been issued for leaving your home on more occasions than necessary. We urge residents who are concerned about a text or email to get in touch first. And our advice remains the same for unexpected calls at the door: never agree to work on the spot, never give your card or pin number away and look out for vulnerable neighbours.
Word from the Cabinet: a warning to businesses
Councillor Paul Gadsby warns "The minority of businesses in the borough using this global pandemic to take advantage of residents will all be visited by officers and evidence collected. We will also report our findings to other regulators such as the CMA and in the case of pharmacists, the General Pharmaceutical Council. We know most of our businesses are supporting residents in reducing the spread of the infection by using social distancing floor markers in stores and preventing stockpiling by introducing sensible limits. However, for those traders and scammers exploiting the Covid-19 outbreak, I encourage residents to continue reporting concerns to tradingstandards@lambeth.gov.uk or 0808 223 1133."