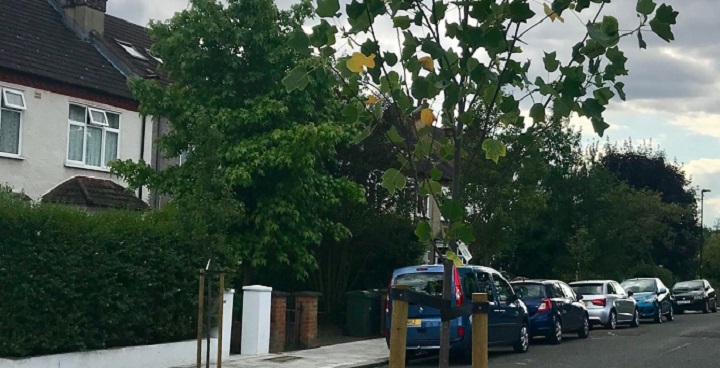 Lambeth Council's Our Streets programme has completed a tree planting programme with a total of 110 new trees (almost £54,000 worth) in Thurlow Park, Knights Hill, Streatham Hill and Gipsy Hill.
Consultation
Through Our Streets, Lambeth's traffic engineers and consultation officers approached citizens to ask them what they would like to change in the area. In all 4 wards in phase 3 of the programme, the lack of greenery was highlighted.
Door to door
Ward councillors were very active in the consultation, going door to door with a tree catalogue put together by Lambeth's Arboricultural Officer and Our Streets Project Managers. Thurlow Park residents had a choice of 11 species of trees – all specially selected as suitable for the local soil.
Word from the Cabinet
Cllr Claire Holland, Deputy Leader of the Council with responsibility for Environment and Clean Air, said: "Residents played a vital role in identifying that they wanted trees here. The Our Streets tree catalogue gave them a choice of trees suitable for the local soil, to the sun and rain on Lambeth streets, and explained environmental benefits like absorbing traffic noise and greenhouse gas CO2."
Next steps – street safety
The next stage of the works will be Our Streets best-known task – making streets safer through traffic calming – with speed humps and other measures where residents said the speed  of traffic is an environmental and safety problem.
Please help our trees this summer
"We don't yet know exactly how hot or dry this summer is going to be – but we'd appreciate it if you'd help by giving your local young trees some extra water to give them the best chance of survival while they settle in to the neighbourhood. Contact us for guidance on how and when it's best to water different species" – Arboricultural Officer
More information
For more about Our Streets see the Council's information pages