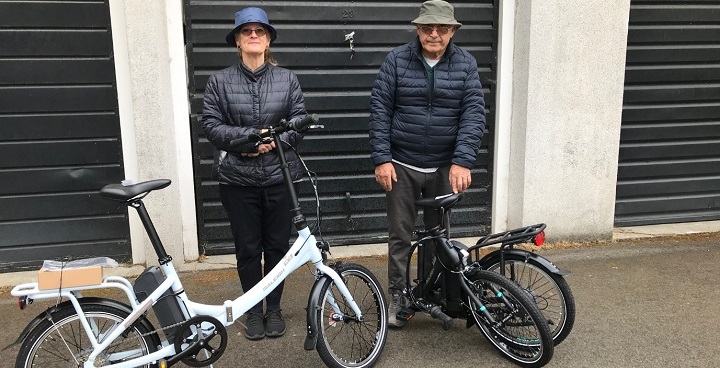 Thinking of giving cycling a go? Want to rent a bike for your kids, have a go on an electric bike or even travel as a family on a cargo bike!? Try Before You Bike is for YOU!
Trial a new or nearly new bike for a monthly fee from £10 for kids / £20 for adults / £20 for folding / £50 for electric / £100 for cargo and adaptive bikes.
Bikes delivered to your door with a free cycle skills session to increase your confidence.
If you like the bike, buy it at a discounted price or pay monthly.
Range of bikes to try with a helpful guide to selecting the right one for you.
All bikes come with lights, lock and helmet and you can add any other accessories you need.
Maintenance and theft cover available for peace of mind.
Free delivery and collection. No deposit, interest or cancellation fees.
Successful trials
"I was so pleased about Try-Before-You-Bike as it's been a long time for me and cycling. It boosted my confidence from 0 to 100 real quick." – Ohnecia
"A fantastic experience! We could get around central London (and more!), without public transport. We discovered fabulous routes along the Thames, and wonderful London parks – with Battersea becoming a favourite. My wife was very sceptical, but with the easy-to-use e-bikes, she discovered a new passion at 69 years of age!" – Giorgio
"After unsuccessfully trying to learn on our own bike, our son is off to a flying start on his lightweight Cuda bike – great for his balance and confidence. Very grateful that a parent at school told us about this great value scheme!" – Nkwa
"We trialled the Babboe mountain bike for three months. We needed to be sure It could cope with the hills for our 14-mile round trip commute to school in all weathers. I'm happy to say thanks to the trial we're absolutely sure. It's also given us a bit of time to save up.  PeddleMyWheels have been super helpful, coming over to change a flat tyre and fix a frozen lock in no time – so friendly and such a brilliant initiative." – Louise
More information
Sign up with Peddle My Wheels who run the programme on behalf of Lambeth Council.