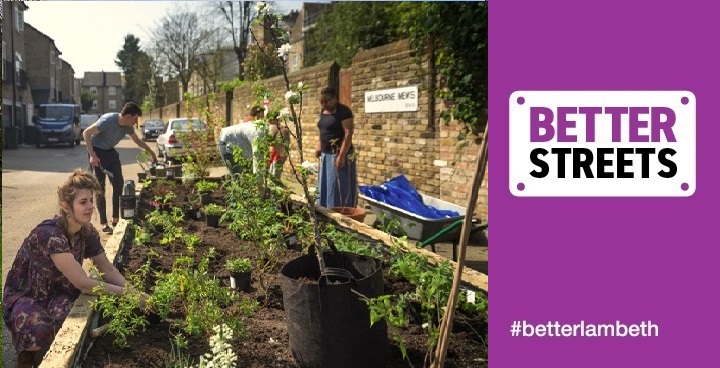 Seb Woods from social enterprise Urban Growth – who support all Lambeth Council residents 'edible living' food growing projects on estates – and Mary Walwyn of the Tenants' Association explained the Melbourne Mews project.
Stop the space being spoiled
Mary said: "We're only 16 houses but we formed a residents association because we were desperate with the fly-tipping and commuter parking. The idea is that making the space more attractive makes people less likely to spoil it."
Beds of sleepers
Seb continues the story: "Residents have been campaigning to get raised beds put in and planted. They'd drawn up a plan for the Normandy Road cul-de-sac for raised beds made of railway sleepers. The residents had funding for some soil and plants and we topped it up with grant funding."
Plant collection
Mary explains: "We were inspired by the planters in Cowley Road and – especially – Van Gogh Walk. Residents drew up the plan to fit the odd shape of the entrance. I've been collecting plants for three years while we've applied for funding. I took half a dozen cuttings from a lovely hebe that was growing at the bus stop on Brixton Road. A former resident gave us a cherry tree. When Seb and his team from Urban Growth came we had a big planting day.
Community pulls together
"It's completely pulled our little community together. I discovered lots of dead keen gardeners in this street. We now have a positive achievement to build on at TRA meetings, so more people come. Passers-by ask 'what's that plant?' so that starts a friendly conversation with the wider community. People sit on the planters to chat to neighbours."
Greening the space
Seb agrees: "It's interesting how gardens can get people out and talking together. The area needs more green to work in a holistic sense. Like a lot of London, there's a lot of brick there. It's a residential area but it's designed around cars, with a lot of impermeable surfaces – which discourages community and social life." Next steps are plans for more planters along the wall to the children's centre, making sure it's still accessible for 999 vehicles.
---
For more information
Urban Growth Learning Gardens is a social enterprise that improves Londoners' well-being by collaborating with them to create & maintain beautiful, biodiverse spaces. See their news and information pages