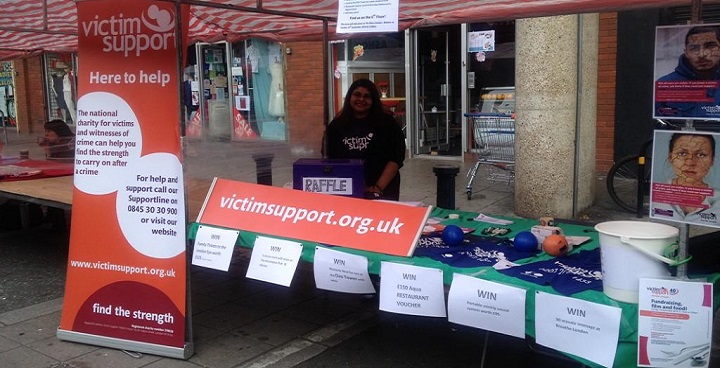 Victim support is available to anyone that has been affected by any crime at any point in their lives. It is open to victims, family, friends and witnesses. We are an independent and confidential service providing emotional and practical support. As a volunteer led organisation; we recruit and train volunteers from the local area to provide support to local residents.
This is one volunteer's experience:
My name is Lauren and I have been volunteering for Victim Support in the Lambeth area for the last 5 months. I have really enjoyed my experience so far as I have been able to develop a number of skills and put them into practice. The most important one being, delivering effective emotional support over the phone and face to face to a variety of different individuals. This experience has challenged me emotionally and mentally when dealing with various cases and people from different walks of life and I love it.
Being able to deliver a service that helps and supports a wide audience which contains people with disabilities, people from the LGBT community, people with English as their 2nd or 3rd language and so on has been rewarding and exciting. Not only that, but being able to help people from my local community has given me a stronger sense of community spirit and it has also reminded me laughter is at the heart of healing.
Can you be a Victim Champion Volunteer?
We are looking for Lambeth residents, particularly from the SW9 area to deliver workshops and information to local community groups In North Brixton around crime prevention and support services.
The impact of crime can affect individuals and communities as a whole. People who are not supported after a crime may become to feel isolated from their own community.
As a Community Victim Champion, you will deliver workshops to local organisations such as women's groups, young people's groups and disability groups on how to prevent crimes, such as theft and fraud. You will also inform local residents of where they can seek support if they become victims of crime.
Support and training provided
We will work with you to develop your skills and interests. Support and training is provided and expenses are paid.
By volunteering, you will become part of one of the UK's largest and oldest victim's charities. You will have access to further training material and enhance your knowledge around crime and how to provide support.
If you are interested in volunteering please email jenny.ruales@victimsupport.org.uk
Free crime prevention and support workshops
If you run or are part of a community group in the North Brixton area and would like Victim Support to deliver a free workshop on crime prevention and support, please call us on 020 7277 1433 or email jenny.ruales@victimsupport.org.uk
More information on Victim Support and how we have helped can be found at www.victimsupport.org.uk