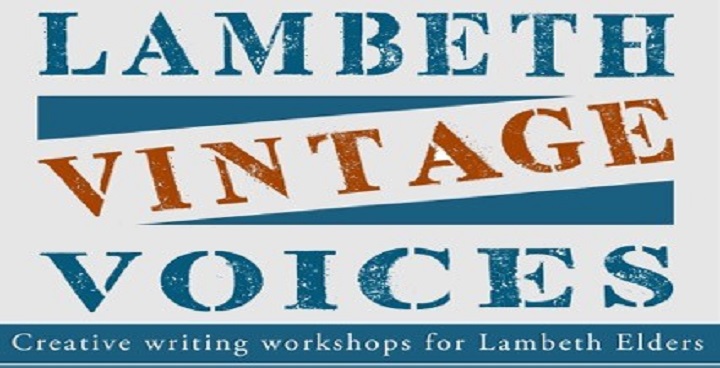 Do you have a story to tell?
Vintage Voices creative writing workshops for Lambeth elders can help you learn ways to capture what you want to say, and give you the confidence to tell your story.
During the two-hour sessions every Thursday afternoon at Brixton Community Base, Talma Road, (the first was on 23 March but they go on through April and May), we will be exploring different writing styles and how stories are crafted  This is a great way to share your experiences, flex your creative muscles and make friends. (There's also lunch included – free or pay what you can).
We ran a pilot project last year which was funded by Age UK as part of the 'Warm and Well' initiative.  This has provided some of the core group who will be part of this project.
We have space for up to 15 people per session. And, while we know Brixton has a lot of stories to tell and to be heard, people from all over the Borough are welcome to come along.
The voices of our past alive in the present
We're also mapping Brixton's recent past. As well as the creative writing workshops we are running a complimentary strand of Vintage Voices which will be recording memories and experiences of first generation Brixtonians who settled here and shaped it's identity. This is an exciting opportunity to paint a picture of how things were to pass on to a new generation.
We are talking with Brixton Community Base about developing further oral history projects focused on Brixton.
Who'll hear your stories?
Work from the Vintage Voices project will be part of the Lambeth Readers and Writers Festival in Brixton Library coming very soon.
Where did the idea come from?  
These workshops are run by actress, writer and playwright Jane Rawson. Lambeth Vintage Voices is part of the community education programme organized by sixteen feet theatre company, who specialise in telling  classic stories in a contemporary and inventive way and performing them in unexpected places – latest production is the Jungle Book.
---
To book a place, Phone Jane 07941 624247/Caroline 07958 448 690:
Email: Brixton Community Base@gmail.org