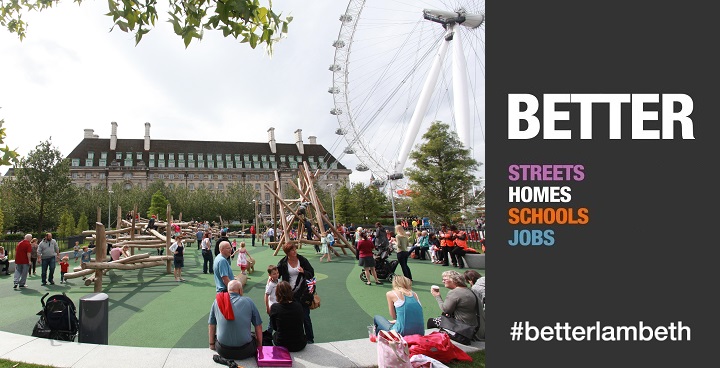 Waterloo is a fast growing area of the borough and we all believe in changing it for the better by working with local residents and businesses so it can be improved as a place to live, work, visit and enjoy for years to come. We want to hear your ideas and priorities for making new improvements so we can help deliver these important changes soon. Lambeth Council is committed to delivering Cooperative Local Investment Plans (CLIPs) for all of its neighbourhoods in the borough which aim to set the local priorities for investment over the next three years. It is now the turn for the Waterloo neighbourhood to produce a CLIP focusing on what you tell us is important to improve the area for the better.
How do I get my ideas heard?
No one is better placed to guide us in investing this money for the best than you, the people who live, work and spend time in Waterloo. So now you can have your by going to our new Waterloo website and fill in this short survey to tell what you think using a map based tool that allows you to comment on the local area. For example, give your views on local parks, streets or civic spaces.  The closing date for comment is February 24 next year.
Have your say now on our special Waterloo website.
Where do I get the facts about my area?
You can also find out what improvement projects are planned, or are already under way, where they are and what their role will be in creating a better Waterloo for you to live, work and enjoy. By visiting the Local Data Platform – it will give you some facts and figures you need regarding activity taking place in the area, plus what we've heard from people already.
Who pays for these improvements?
Investment in improvements often comes from a variety of funding sources, but mostly secured from new development Lambeth Council grants planning permission for on sites to build new homes, offices, businesses or shops whom are obliged to make payments to fund improvements in the local area. With these funds we hope to help deliver the new Waterloo CLIP.
When will I see the Plan?
Following the consultation, we will review all your responses and findings and then aim to publish a report in Summer 2018. The Council will seek to base local investment decisions in Waterloo on the ideas and priorities people send in for the CLIP so it is important your have your say.
---
Help us spread the word
As well as having your say, do help us spread the word to reach as many people as possible who live, work and visit Waterloo. You can do this by: