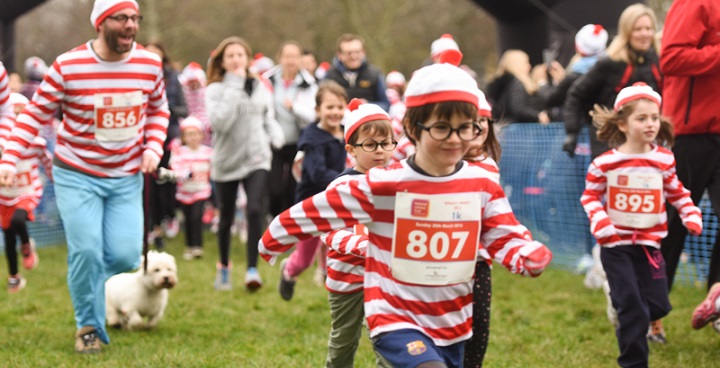 Clapham Common hosts the Where's Wally? fun run on Sunday 17 March 2019.  Runners, families and book lovers will dress up as the popular children's book character and run, jog or walk to raise money for the National Literacy Trust. The event includes a 5k or 10k run, as well as a 1k version for children under 12..
Record numbers
This is the run's seventh year, returning to Lambeth for what's expected to be the biggest event to date.  The National Literacy Trust hopes to follow last year's 25th anniversary with a record number of runners donning red and white stripes. Over 1,000 runners signed up for the run last year, raising almost £50,000 for the charity.  Research from the National Literacy Trust and Experian shows that London is the most vulnerable region in England to serious literacy problems.
Life-changing support
Jonathan Douglas, Director of the National Literacy Trust, said: "The proceeds raised will help us change the lives of disadvantaged children in London by giving them the literacy skills they need to succeed. Just £25 could give a family from a deprived community the skills and support they need to develop their child's reading, while £50 can give a child who has fallen behind in their reading 20 hours of personalised literacy support,. I can't wait to see you there!"
Fundraiser fun
The Where's Wally? fun run includes a festival area with live music, food stalls, face painting, fun rides and games for kids. Runners will also take home a goodie bag including Walker Books' Where's Wally? The Sticker Book, with over 1,000 stickers!
For more information
National Literacy Trust An independent charity dedicated to raising literacy levels in the UK and the leading authority on literacy. Visit our information pages to find out more, donate or sign up for our free email newsletter. Follow us on Facebook, Twitter and Instagram.
Vauxhall-based Walker Books UK publishes many award-winning authors, illustrators and brands. Walker is the world's leading wholly independent publisher of English-language children's books. For more information see our home page
WHERE'S WALLY? is the creation of Martin Handford, whose entertaining drawings of crowd scenes first swept the globe in 1987. The books have sold over 67 million copies in 31 countries. With his iconic red-and-white striped sweater, black-framed glasses and bobble hat, Wally is a true individual, always in search of his next adventure, inspiring fans to create their own adventures in life.
Clarks (sponsors). C&J Clark Limited shoemaker was founded in Street, 1825.  Their archives of more than 22,000 shoe styles contains shoes that have sparked a revolution, defined a generation and captured the imagination, like the iconic Desert Boot.   See their information pages