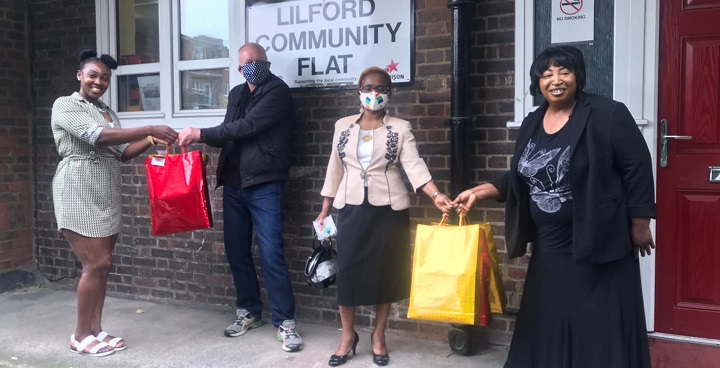 Heartbroken by national news about unprecedented deaths in the communities, Lilford Area Residents Association (LARA) volunteered to handmake and donate 500 masks to King's College Hospital NHS frontline staff as a thank you gesture. Cllrs Pauline George, who is a frontline nurse, and Jim Dickson, Cabinet Member for Health and Social Care, were delighted to help get masks to King's.
Word from the Cabinet
Jim Dickson, Cabinet Member for Health and Social Care, said: "It's fantastic the way this community has worked together, got creative, and found a practical way to support the front-line workers on their doorstep– and it's only one example of the hundreds of inspiring things Lambeth citizens have done to help each other in this crisis."
One strong team
The Estate's summer holiday activities planning team and knitting circle came together with the LARA sewing group led by tutor Vicky, creating a nine-strong sewing team for six weeks. Vicky shared an online tutorial through LARA's Whatsapp group, and one-to-one, step-by-step sessions for two styles of mask. She also sewed 'hard copy' masks for reference.
Cut and collect
Vicky calculated materials needed and created a shopping list. TRA Chair Rosemary donated material left from 2019's summer play scheme and chose fabrics to order online. Patterns were cut for drop-off at each sewing member's door or collection from the Community Centre. Vicky and Rosemary collected finished masks from doorsteps.
Needlework novices
At first, most volunteers (including Rosemary) were complete sewing beginners Everyone fitted hours of sewing around home schooling, looking after vulnerable people or other personal commitments. Omeh Egbe, an autistic adult, sewed through to the early hours of the mornings for several days and had to be lured and encouraged to go to bed.
Distribution and contribution
On June 3 the councillors collected 500 masks for the NHS and handed them over to Chief Nurse Nicola Ranger. Every mask was neatly folded and packaged individually in a gift bag. So far LARA have given away 640 masks, including 100 for volunteers on other estates asked for by Council's resident engagement team.  Masks have also helped stitch community spirit together- for example, LARA donated masks to two local families for use in  funeral processions. The last few handfuls of masks are for hand-delivery to vulnerable residents and keyworkers on the estate. But the sewing circle plan to do more to help with the Government now making masks on public transport mandatory.