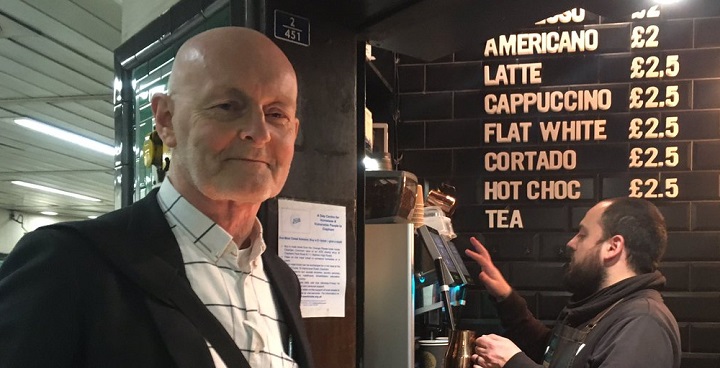 The Ace of Clubs charity for the homeless and vulnerable based in Clapham, will be welcoming over 150 guests for dinner on Christmas Day this year. Although the festive period is an important focus for the centre, it is busy throughout the year, Monday to Friday. The Ace of Clubs offers food, clothing, showers, healthcare, welfare advice and friendship to over 80 visitors every day.
Vulnerable at Christmas
In the run-up to Christmas, the charity showed Lambeth councillors how much hard work goes into looking after the borough's homeless and vulnerable during the festive season – and throughout the rest of the year.
Word from the Cabinet
Cllr Paul Gadsby, Lambeth's Cabinet Member for Housing, said: "Problems like homelessness and rough sleeping are continuing to rise and they're becoming more and more visible on our streets as the housing crisis worsens. We're doing everything we can as a council to tackle these problems and help people off the streets. But it's fantastic to see the contribution being made by the rest of the community on a daily basis.
21,000 meals
"The Ace of Clubs provide 21,000 meals to homeless and vulnerable people every year, as well as offering other support like arranging for employment training at local coffee shop. But it's brilliant to see that they don't let up at this time of year, when the problems of homelessness, isolation and vulnerability can be at their worst."
Family-like community
Ace of Clubs is a family-like community providing transformative support for those who are homeless, vulnerable and otherwise marginalised in our area. Ace of Clubs director, Andrew Tyers, said: "The numbers of people coming to Ace continues to increase. Every day people come through our doors who have spent the night before sleeping in parks, or on the streets in Lambeth. Other guests may only be temporarily housed, and there are those that are vulnerable, and feel isolated. All our guests come here for practical support, and are welcomed into a community where they can feel part of society, rather than excluded from it".
Generosity and goodwill
The charity receives no statutory funding, and offers this transformative service through a few key paid staff, and a host of volunteers. Mr Tyers added: "We appreciate the enormous generosity and goodwill of the Clapham community at Christmas and throughout the year, which enables us to provide our essential services. Local supporters help by volunteering, giving financial support, shopping at the Ace of Clubs shops and by donating food and goods to the centre."
Helping ACE
If you would like to find out more about helping homeless and vulnerable people, Ace will have a stall on Saturdays throughout December at the Venn Street Market in Clapham, SW4.  Sarah Miles, Centre Manager, said: "Ace's daily commitment to the vulnerable means we need contributions to meet their needs both on Christmas Day, and throughout the year. We are grateful for practical donations ranging from non-perishable foods, toiletries, sleeping bags, underwear and socks to basic mobile phones which keep our members in contact with healthcare, and other essential services."
For more information
For more details about volunteering opportunities and donations please visit www.aceofclubs.org.uk