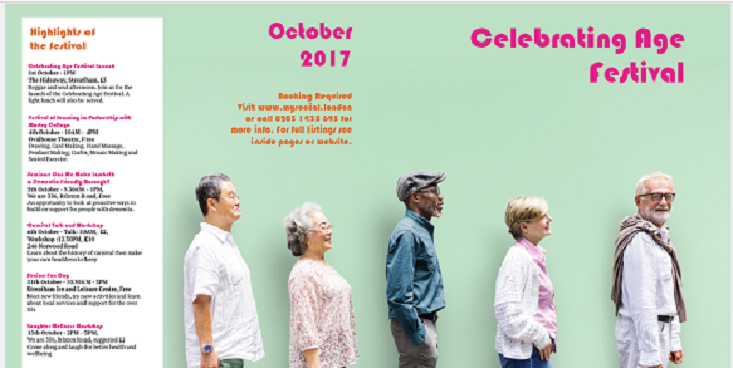 'Age does not define us' is title of the talk being given at Age UK Lambeth's AGM by this year's guest speaker, Dr Jonathan Collie, co-founder of The Age of No Retirement. 
Labels
In today's world, the labels 'age' and 'generations' that have for many years been used to define us, have become increasingly irrelevant. In fact, they have become downright dangerous. They undermine our sense of self-worth, cause division in our society and hold us back.
Challenge the old words
The Age of No Retirement is a movement for social change. We are part design lab, part research unit, part network and part storyteller. We are also full-time collaborators, and 100% committed to creating a world where our age, and how many birthdays we have, no longer matters.
Redesigning  businesses and products for older people
We facilitate debate and discussion around the value that an intergenerational society brings to us — as citizens, as consumers, as workers — and the positive impact this has on the products and services we interact with every single day. We work with corporations, small businesses, the media, government, third sector organisations and people of all ages and backgrounds to create products, services and environments that challenge the boundaries of age and that work for all of us — however young or old we are.
Trading Times
In 2014, Jonathan launched Trading Times – the online service that connects people over 50 with local employers for flexible, paid work. As a direct result of insights gained from Trading Times, Jonathan became committed to changing the narrative of Age – from one of dependence and decline to one of exploration and optimism.
And following Jonathan, join us for lunch.
---
Book a place and join 'MySocial'
Book your place at the AGM through Age UK Lambeth's new MYSocial free membership service.
The Celebrating Age Festival is a month full of events and activities for senior citizens in Lambeth. But there is a whole year of events and information available through MYsocial. Membership is free.
Age UK Lambeth is a registered local independent charity set up primarily but not exclusively for the benefit of senior citizens in and around Lambeth.