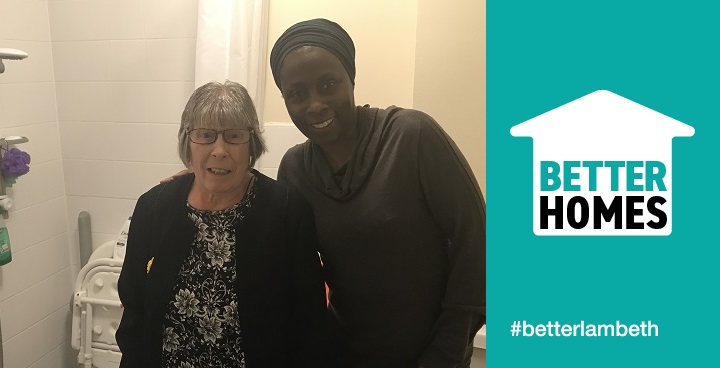 In 2012, Lambeth embarked on the LHS programme; investing over £490m in our housing stock to bring them up to, and above, the government's own Decent Homes Standard As part of this scheme, and to help deliver the council's Older People's Housing Strategy, the council prioritised sheltered housing for investment, so that our older and vulnerable residents had warmer, drier and safer homes in which to live.
Sheltered housing prioritised
Cllr Jennifer Brathwaite, Cabinet Member for Housing & Environment, and Cllr Jackie Meldrum, Cabinet Member for Adult Social Care, visited Balmoral Court in West Norwood – one of the many sheltered housing schemes that have recently benefited from LHS upgrades. Over the last 2 years the scheme has benefited from new windows, kitchens and bathrooms, as well as a newly landscaped shared garden area with new, safer paving installed, hundreds of new shrubs and a new resident vegetable garden.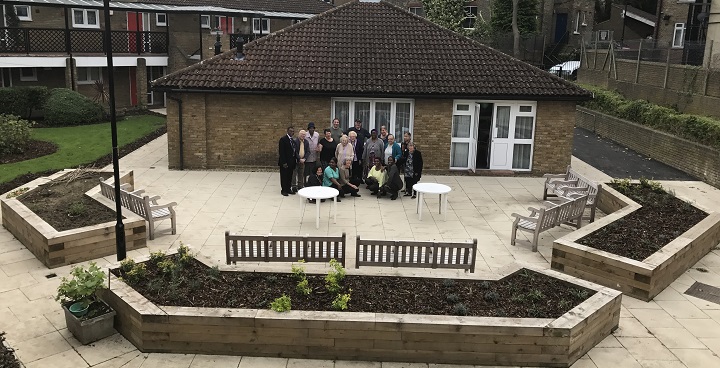 The bathrooms have been remodelled into new wet rooms, substantially reducing the risk of slips and falls for residents, with the new kitchens allowing for more space and better cooking facilities.
"The walk-in shower makes my life a lot easier. I can just walk in and turn the shower on without being afraid of slipping. It's heaven!" said Caroline, a resident of Balmoral Court (pictured with Cllr Brathwaite). "The new kitchen is a lot better too – I enjoy cooking in it now!"
Newly landscaped gardens
On top of this, Balmoral Court now boasts new disability scooter sheds with charging points for residents. Throughout the process, residents of the scheme have been heavily involved in deciding the priorities and shaping what was to be done.
In fact, a central feature of the re-landscaped garden is now two Phormium plants grown by a Balmoral resident, which have been relocated to the new plant bed in the middle of the garden. As part of the investment, a 12-month maintenance schedule has been put in place to ensure that the garden flourishes into the community space that it is meant to be.
On the newly landscaped garden, Balmoral resident Elizabeth (pictured above) said: "It is beautiful. I'm really looking forward to spring when the flowers start to blossom."
---

See how you can get involved to help us create a Better Lambeth for everyone, through our key campaigns:
Read the latest Better homes news.