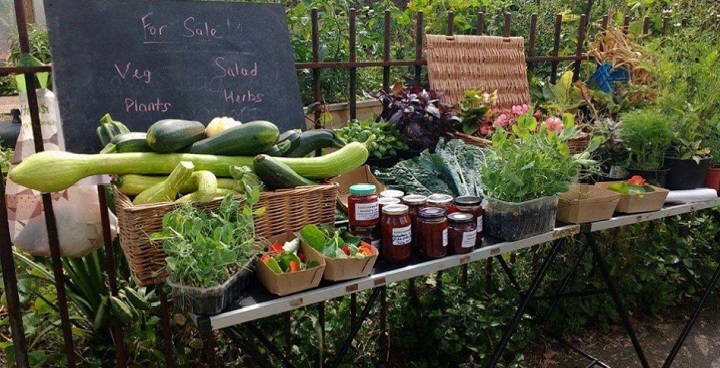 Nothing's better for the mind, body and soul than getting outside and gardening, but not everyone is lucky enough to have a space of their own to enjoy.
Bandstand Beds – grown from seed
A few years ago, raised beds were built next to the café on Clapham Common, and a few gardening enthusiasts became the Bandstand Beds Association. From humble beginnings, we're now Clapham's biggest food growing project.
From dump to garden
Three years ago, with support from Lambeth Council and grants secured by Bandstand Beds, the group turned one corner of Clapham Common's Green Waste site ("the dump") on Windmill Drive into a lush community garden. Last year, with the success and popularity of this project, Lambeth allowed Bandstand Beds to take over more space.
Up the garden path
Half the garden has pathways funded through Lambeth's levy on Clapham Common concerts. But the new section also needs paths to create a safe and welcoming place.
Crowdfunding
For this transformation, Bandstand Beds needs just over £5000. There's a crowdfunding page on Spacehive. Lambeth Council have pledged £795 to cover VAT.
Accessible garden
One ambition for the coming year is regular gardening sessions for over- 50s wanting to get active outdoors, have fun food growing and meet people. Trial sessions are running in the safer areas, but new pathways will open up the whole garden and make full use of the container kitchen.
Moneymaking ways
Each Saturday, Bandstand Beds sell produce from pea shoots to pickles from a table on Windmill Drive. Probably the freshest in Clapham! All monies from food sales go towards crowdfunding.
If you can't make that, we also harvest veg (plentiful right now) at gardening sessions on Wednesdays, 6 to 8pm. It's the garden that keeps giving!
---
For more information
To help Bandstand Beds meet their target and build paths, make a donation online
For more about getting involved with Bandstand Beds food growing project in the heart of Clapham, and more fundraising events, visit the Bandstand Beds website.