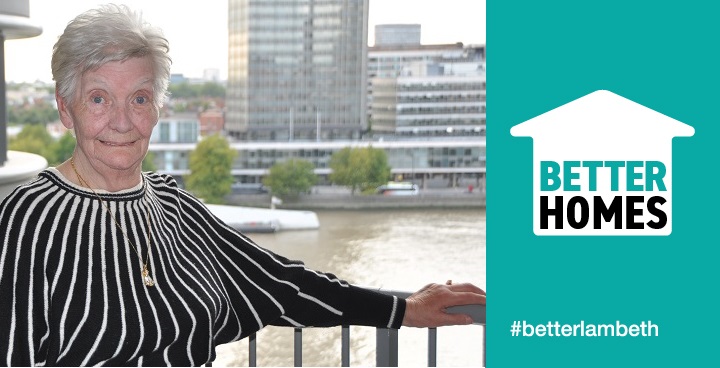 Sylvia W grew up in Peckham, with an adoring father and strict mother.  Her father developed tuberculosis (TB) and decided they should move somewhere warmer. They moved to Sydney, Australia, for a year.
Family history
She had a son and a daughter with her first husband, but sadly that didn't last. She was with her second husband, John, for 27 years.  They had another son, and Sylvia now has seven grandchildren.
Trip of a lifetime
After saving for eight years, Sylvia and John took a round the world trip of a lifetime on the QE2. Sylvia kept a diary of all her trips and is writing a book of her life. She adores her new flat's view of the Thames, and goes out on the balcony every night. It takes her back to her cruising holidays.
Denby Court
The couple settled at Denby Court. Sylvia loved living there for 34 years. She was sad to hear she would have to move out of Denby Court when it was due to close, but cried with joy when she saw her flat in Bankhouse.
Extra Care
She really likes the security of being looked after by the care staff, she describes them as 'so kind, I can't fault them, and nothing is too much trouble for Jason, the general manager'.
Room to create
Sylvia is wonderfully creative and makes beautiful cards, does cross stich pictures and spent eight years making an amazing dolls house, including all the furniture, fixtures and fittings. As well as her many other creative talents, Sylvia also writes poetry and wrote a beautiful poem to send to her friends describing how happy she felt about her move to Bankhouse.  She is very content and has to pinch herself every day as she can't believe she lives in such an amazing place.
---
More information
For more information about extra care in Lambeth and to request an assessment for a referral to Bankhouse or any extra care scheme contact Lambeth's Social Services Adult Care 
For more about Senior Living in a Season (One Housing) scheme see case studies from Season
Following an assessment of someone's need and eligibility criteria, Lambeth aims to provide:
Individual choice and control over their support
Independent living with dignity in their own homes for as long as possible
Ways to overcome social isolation.
---

See how you can get involved to help us create a Better Lambeth for everyone, through our key campaigns:
Read the latest Better homes news.