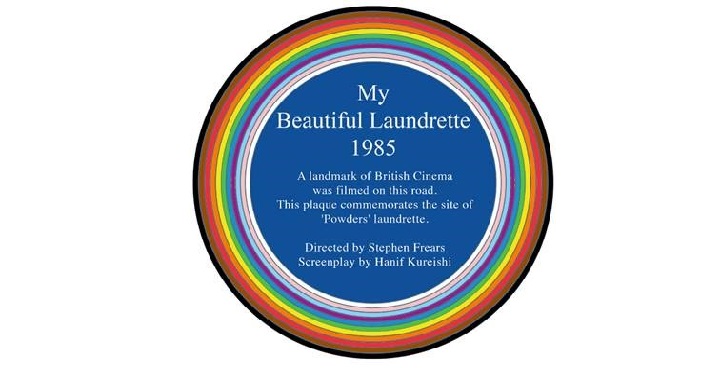 Lambeth Council supports Wandsworth's LGBT+ Forum's campaign (in partnership with Studio Voltaire and Clapham Picturehouse) to install a rainbow plaque in Vauxhall dedicated to landmark movie, 'My Beautiful Laundrette'.
"Powders" remembered
The plaque will mark the location that became fictional laundrette "Powders" in the iconic  1985 film, on a site in the footway opposite no. 11 Wilcox Road, Nine Elms, SW8.  Wandsworth LGBT+ Forum made a successful planning application for the site to celebrate and preserve London's LGBTQ+ cultural history.
Groundbreaking love story
In 1999 The British Film Institute ranked My Beautiful Laundrette the 20th century's 50th greatest British film. It broke major ground in the Thatcher era with an interracial gay love story, earned Hanif Kureishi an Oscar nomination for Best Screenplay, made Daniel Day-Lewis' a star and helped establish Film on Four.
LGBTQ+ Landmark
"People already come to see the Powders site" says David Robson of campaigners Wandsworth LGBT+ forum. "We hope it will become a visitor attraction, inspiring people to come and stay for a coffee or to eat and support local businesses."
Word from the Cabinet
Leader of Lambeth Council, Cllr Claire Holland said: "I've supported this community-led campaign in my ward from the beginning. I went on a site visit with David Robson to talk to shopkeepers and talk about where to install the plaque, and I put Wandsworth LGBT+ Forum in contact with the team from Lambeth Highways who will project-manage the installation."
 Out at Clapham Screening
On 24 July a Clapham Picturehouse Out at Clapham screening – with £2 from every ticket added to the fundraiser – will be followed by a Q&A session with screenwriter Hanif Kureishi, director Stephen Frears, and co-lead actor Gordon Warnecke. Kureishi said: "Everyone who worked on My Beautiful Laundrette is thrilled and delighted to be associated with the Rainbow Plaque, which not only celebrates us but the whole of the LGBTQ community and their work for freedom in these difficult times".
Fundraising phenomenon
 The crowdfunder for the plaque's design, production and installation was a success. "It blew us away to reach our target for this Rainbow Plaque in six days compared with six weeks to reach halfway for Wilde" says David Robson.
More information
This will be Lambeth's first Rainbow Plaque, and the first Rainbow Plaque based on the Progress Pride flag including marginalised communities – people of colour, trans, and people living with or lost to HIV/AIDS.
In July 2019, Wandsworth LGBTQ+ Forum and Studio Voltaire unveiled a Rainbow design plaque based dedicated to Oscar Wilde at Clapham Junction railway station. The design was based on the Rainbow Plaque scheme established by York Civic Trust with York LGBT Forum in 2018 as a way to identify vital people and moments in Queer History.
For more about Out at Clapham – the regular LGBT+ film club at Clapham Picturehouse see their page or Clapham Picturehouse