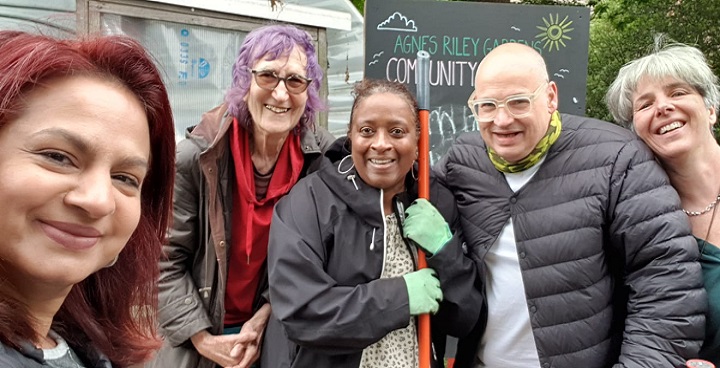 When a team from Lambeth Council volunteered to "walk the walk" for National Volunteer Week, the Friends of Agnes Riley Gardens were ready to offer them work in the community garden.
Work that pays back
"For Volunteer Week," said Lambeth's team, "We wanted to prove how being "busy" can mean something very different from working at screens on desks. Volunteering lets you reap the benefits of working together -something you don't do everyday, having face to face conversations with new people, and get out in the fresh air with its mental health benefits,"
"At Agnes Riley, another volunteer came to ask for some garden herbs for a multicultural cooking class with refugee children. We'd never have met them in daily work."
Matching the job to the person
Ching Wah Wong, Secretary of the Friends of Agnes Riley Gardens said: "Volunteering gives people who are often defined – even define themselves – by job title, chances to discover what more they can do. We've got Good Gyms volunteers coming to get rid of plastic planters. That job needs strong people, but we also offer lower-impact volunteer jobs like weeding and sifting compost. Some people think they can't volunteer in a garden because it's just digging. We've got other projects like keeping the paddling pool open, sorting out our equipment store. We also really want volunteers for non-physical tasks like web designer, treasurer which you can do from home.  We'd never turn any volunteer away.
"Volunteers are the glue in so much work in the community. I wish we would do more than just saying 'thanks' one week of the year – like training and creating networks to help one another."
 More information
Volunteering is a fulfilling way to give back to the community, and helping others makes you feel great in return. Volunteers' Week is an annual celebration of the contribution millions of people make across the UK. Find out more about both volunteering and the 2022 celebrations:
Agnes Riley Gardens is working with Lambeth Council to deliver the 'Growing Back Greener' project with its London-wide aim to reduce the risks of rainwater flooding. In a recent consultation, local people strongly agreed the work matters. It'll include improving the garden's food-growing polytunnel with rain gutters, creating a new rainwater pond and clearing the existing pond of parrot feathers that made the water harmful to wild plants.