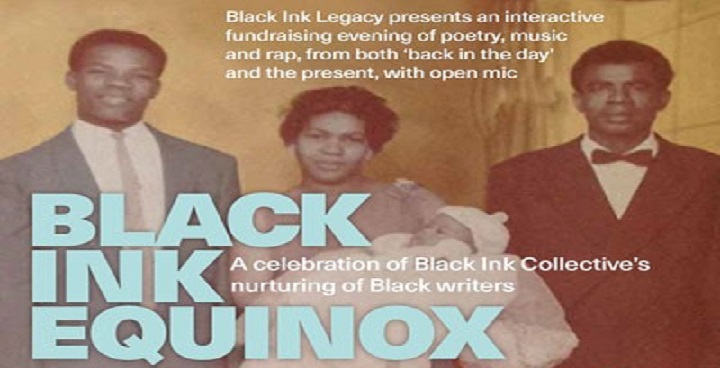 Black Ink history
Black Ink provided the first platform of its kind for young Black Britons across the UK to have their writing published. It was founded in Brixton by eight people aged 17 to 25 and concerned about the lack of representation, Over the next 10 years, during a time of great social upheaval, Black Ink proved it possible to publish independently and paved the way for Karnak House, Akira Press and Tamarind Books, among others.
Forty years on
Forty years on, the charity, Black Ink Legacy – telling Black Ink's story to safeguard its legacy – will commemorate the cutting edge literature that emerged during this exciting wave of creativity in the 70s and 80s, as the first generation of post WWII young black people came of age.
Black Ink on the night
Black Ink Equinox is Black Ink Legacy's first fundraiser. Lorna Sutara Gee – acclaimed actress and award winner for outstanding contribution to reggae music – hosts a mix of music and poetry from:
Nzinga Soundz featuring DJ Ade and Junie Rankin, one of the UK's longest running all- women sound systems
Stxkz, emerging rap artist
Dorothea Smartt, internationally respected poet/live artist.
Interactive evening
"There are exciting prizes to be won in the raffle. For the creative: bring your favourite words to share, for the energetic: bring your comfortable dancing shoes to take full advantage of opportunities to show off those '70s and '80s moves at the after-party." – Black Ink Legacy's chair, artist Desrie Thomson-George.
Black Ink in the future
Black Ink will continue to encourage and support the writings of young people from communities with the same pioneering spirit with a series of activities in 2018.