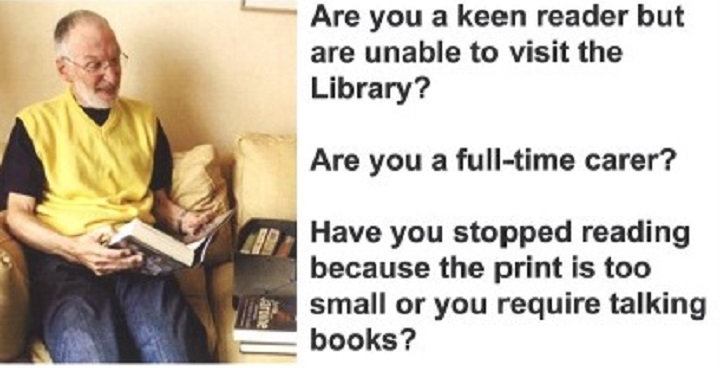 "The first question is always 'What does it cost?'. It's FREE. Almost everything you can find in a library, comes home. We phone or visit and ask how many books, standard, large print or CD audiobooks. Sometimes we recommend authors: maybe someone's read every Josephine Cox but still wants historical romance, or wants to move on from family sagas set in World War 2 to the 1950s and '60s. We take collections into sheltered housing.  Sometimes you put one of a different style into the mix, like a western, and that sets a reader off on a whole new interest. We take iPads and help people find bus timetables or look up switching energy suppliers.
All kinds of readers
"Sometimes social workers, Age UK, or health visitors recommend us. More than once I've seen someone struggling to carry books to the Library and asked if they've heard of the Home Visit Service. We've all kinds of customers – older people, but also children who can't go to a library for various reasons, people acting as carer for family members, or some who only need us for a short time because they've broken an arm and can't carry books.
Fact not fiction
"Sometimes we're the only person someone sees in a week. We know we're a lifeline to the outside world. We never expect five minutes in and out.  Some readers talk about the books – in so much detail you say 'well, I don't need to read that one, now'. But usually they're more interested in talking about their own lives.
Enabling interaction
"We'd love to encourage readers to start reading groups, but a lot of them have mobility issues. We're just about to trial taking tablets out on visits, to encourage more people to learn to use the internet. One thing that's popular is photos of their home town and how it's changed. Hopefully we'll encourage more of them to go online and interact with more people."
Word from the Cabinet
Cllr Sonia Winifred, Cabinet Member for equalities and culture says: "Our Lambeth Home Library Service Team have been providing this valuable service to our older and vulnerable residents in the community for many years. It is a much valued service with a dedicated team who are really the lifeline of communication for so many of our housebound residents to combat loneliness and isolation. It is a free service if you want to be considered for a home delivery of your favourite books and films, please contact the home library service."
For more information
Apply for the Library Home Visit Service