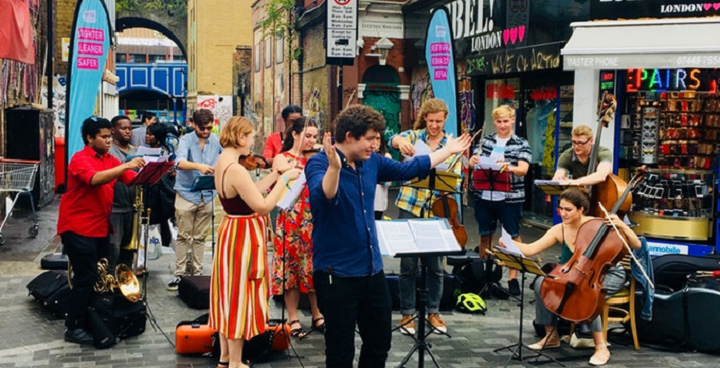 Lambeth's Tenant and Resident Associations (TRAs) and Tenant Management Organisations (TMOs) have invited Brixton's own Chamber Orchestra to give a week of Christmas concerts in community centres in council estates.
Word from the Cabinet
Cllr Sonia Winifred, Cabinet member for Equalities and Culture, said: "This is a great project and I'm delighted these musicians from Brixton are volunteering to share their musical talents with this series of concerts. Taking these performances to people's doorsteps is a great way of both engaging and entertaining people in the run up to Christmas."
Brixton Chamber Orchestra
BCO is a versatile group of classically trained young instrumentalists – the first orchestra of its kind in Lambeth, with young professionals and talented amateurs playing side by side. BCO was formed just 6 months ago.
Reaching new audiences
Musical Director Matthew O'Keeffe says: "We play music of all types, classical, pop, gospel and grime. We're known for playing unexpected places. We work with music charities and schools in Lambeth, to help bring new audiences to classical music and encourage more people to take up an instrument.
Come together
"I grew up in Moorlands Estate, Brixton and it was only through a lucky admission to a music specialist school that I was able to discover my passion and vocation. I have no doubt there are a great number of potentially extraordinary musicians living in Lambeth's Council Estates who won't be as lucky as I was."
Uplifting experience
"We want communities to come together and enjoy an uplifting musical experience, free of charge. Our secondary objective is as an aspirational example for young people – using vibrant performance to exemplify what dedication and hard work can achieve. We believe this project has the potential to make a real difference to people. I hope this tour will be a yearly event, growing throughout Lambeth.
Kickstarting the tour
The orchestra needs financial help for the practicalities of the tour and set up a Kickstarter to raise £4,000.  There are rewards for pledges including 1-2-1 music tutorials to tempt music fans and inspire musicians.
When & where to hear them
Dec 15 6pm Angell Town, Brixton Wings, Unit 4 Fairfax House SW9 7JR.
Dec 16 7pm Moorlands Community Centre, SW9 8QT.
Dec 17 7pm, Loughborough Community Centre, Wiltshire Road, SW9 7YA.
Dec 18 7:30pm Jubilee Hall Tulse Hill SW2 2LY.
Dec 19 7pm Cressingham Gardens Rotunda, SW 2 2NJ.