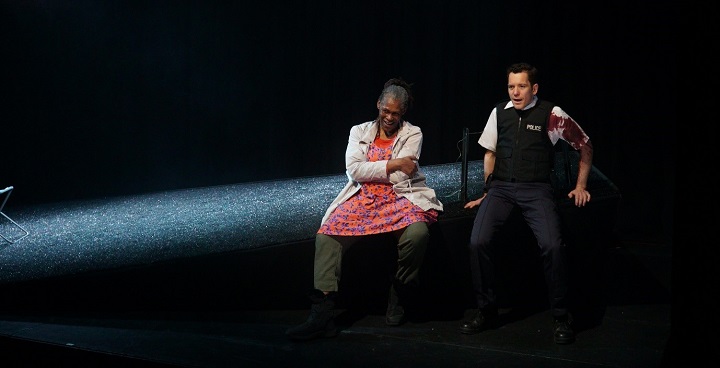 Theatre company Playing On present Can I Help You? at Clapham Omnibus Theatre, from March 3 – 21. The play draws on mental health and suicide themes and was the last work by Playing On's co-founder Philip Osment.
'Can I help you'?
An off-duty English policeman is about to throw himself off Beachy Head when he meets a Ghanaian woman carrying a laundry bag and a cat box. Over one night, two very different people learn what it means to be touched by the magic of hope.
The play, the author and the company
Director Jim Pope explains more.  "Philip Osment was an award-winning playwright on subjects from Shakespeare to social issues like sexuality, mental health, prison and drugs. I created the Playing Up programme for the National Youth Theatre, delivering Level 3 Accredited Learning, and we co-founded Playing On. Our previous plays by Philip include Inside, about young fathers in prison, and Hearing Things, looking at the dilemmas of psychiatry from both patients and staff.
Supportive conversations
"Suicide can be a difficult subject but it affects so many people that we want to encourage supportive conversations. Can I Help You? is ultimately driven by the capacity of people to support each other in times of need. Moments in the play are funny and touching to help balance out some of the sadness. There are other weighty themes such as how race disparity and gender stereotyping affects attitudes within mental healthcare. "Can I Help You? was initially developed at one of Omnibus' Engine Room nights where companies try out ideas in front of an audience."
Wraparound activities
This play isn't just something 'at the theatre'. There are wraparound activities to get conversations going, open to NHS service users and professionals and audience members interested in exploring the ideas. "At our method's core lies the understanding that by creating imaginary characters inspired by real-life, people can explore complex situations and difficult conversations. It's very important that local people who face financial barriers to theatre have the chance to see it so, for less than the cost of a coffee, we have 'pay what you feel' previews on 3 and 4 March.
Bridging gaps
"Playing ON have worked in clinical and community mental health since 2011, using theatre to bridge communication gaps between professionals and service users. We've had remarkable success in hospital and community settings, including South London and Maudsley NHS. We hope Can I Help You? has a future as a touring production. We're in the process of becoming a charity and looking to develop a formalised training programme to disseminate our theatre-making process to wider audiences."
More information
For booking details and more, see Omnibus Theatre's website