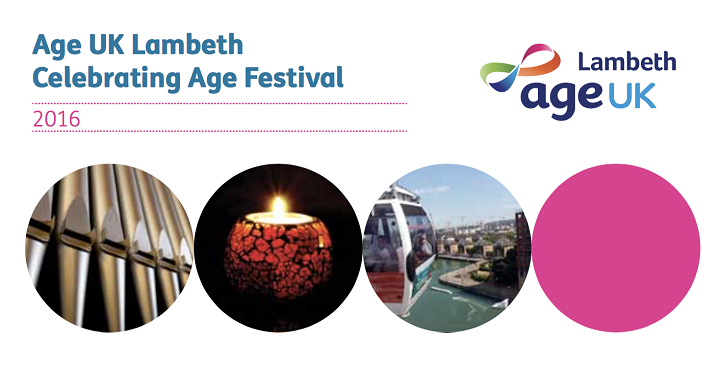 Age UK Lambeth's 18th annual Celebrating Age Festival  begins on the United Nations International Day of Older Persons on 1 October 2016. The Festival promotes the richness and diversity of Lambeth communities and our events will be attractive to people of different interests, whether you are looking to indulge in familiar activities or discover something entirely new. The programme includes film screenings, concerts, dances, trips and exhibitions, so there is something for everyone to enjoy. 70+ events for Lambeth residents aged over 55 will run across Lambeth from 1-31  October 2016.
The festival will launch with a party at Montgomery Hall with refreshments, fun and dancing to the sounds of the 50s and 60s, while throughout the month highlights include performances by the Beautiful Mess Theatre Company, a free concert by the London Symphony Orchestra, trips to the Victoria & Albert Museum, a Silent Comedy Festival at the Cinema Museum and the annual Information Fair.
Age UK Lambeth is delighted to support the festival again this year and we raise most of our funds locally. You can donate to support our services by using the donation boxes at Celebrating Age events, donate online or by completing and returning the form at the back of the brochure.
The Celebrating Age Festival brochure is available from community venues including libraries and GP surgeries.
For more information call 020 7346 6800.
See you there!