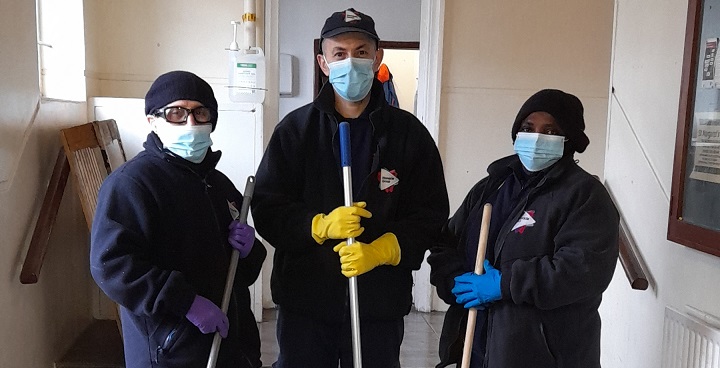 Lambeth's cleaning and gardening contractors Pinnacle have a tradition of volunteering at Christmas. This year, their help to the community included reaching out to local foodbanks to ask what help they could offer.
Hygiene and safety
Oasis Waterloo, who are organising the Norwood foodbank this year, first asked just for volunteer delivery drivers, and then added a request for cleaners to make sure the foodbank space is clean.
Safe space
Cleaners Sergio and Doris, team leader Antonio and their manager Victoria went to St Margaret's Church Halls, Streatham to make sure the hygiene standards are in place ready for the foodbank to open. The halls are being used for temporary storage for the overspill of food and toys – the church is already full. Donations had grown from an initial expectation of enough for 500 people, to around 2,000 for Christmas. The halls have not been used for some time and really needed a deep clean for food storage and to give the volunteers somewhere clean to work with a kitchen and toilets.
Parcels and presents
There's also a Pinnacle volunteer cleaner service over the days that foodbank volunteers are working, from Monday 21 December to tidy up, sterilize packaging tables and clean the welfare facilities after the volunteers have finished for the day at 4.30pm.  Preparation (preparing food parcels and wrapping presents) started last week and will continue up to 22 December.
Delivery driving
The delivery driving service will be mostly made up of team leaders and managers using Pinnacle vans to distribute food parcels and toys to various postcodes across Lambeth. We'll be supplying about six vehicles on Saturday 19, with a couple more to follow on 21, 22 and 23.
Donations
Oasis sent thanks for the support and Pinnacle's donation, and can still accept donations for the Norwood Foodbank for Christmas either by BACS or by donation on the Oasis Crowdfunder page.