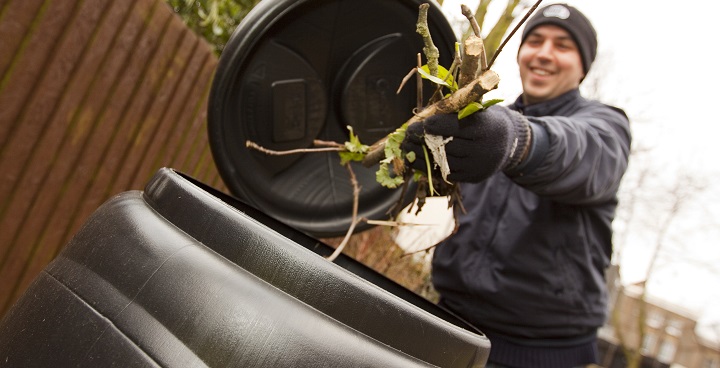 Sunday 6 May – Saturday 12 May is International Compost Awareness Week. Here are some ways in which you can get involved with composting in Lambeth.
From scraps to better soil
Home composting is not as hard as you might think. With a few easy steps, you can go from a bin full of food waste to a garden filled with nutrient-rich soil. It's just a matter of knowing what can and can't go into the compost bin.
Balance your greens and browns
Aerobic compost bins – the type most commonly found at home – take all raw and cooked fruit and vegetables, grass cuttings and cut flowers (the 'greens'), as well as other kitchen and garden waste such as autumn leaves, eggshells and used paper towels (the 'browns'). Keeping a balance between the two is the key to healthy compost. Your work will pay off in time, as you'll be rewarded with nutrient-rich compost, excellent for flower beds, pots, and fruit or vegetable gardens.
Good for the environment
It only takes a second to decide to separate your food waste, but it will have a long-term impact on the environment. Composting not only leads to a reduction in waste going to incineration, but can also benefit your own garden.
Recycle your food waste
Making use of Lambeth's weekly food waste collection service allows you to recycle all of your food scraps and leftovers including dairy, meat and bones. This waste is then made into ProGrow compost, which is available at Vale Street Recycling Centre. It is used to improve farmland around London, reducing the need for artificial fertilizer.
---
For more information
Most homes with a kerbside bin collection in Lambeth have a food waste collection. To find out more about what to recycle and your collection date see the Lambeth Council information pages. Food waste collections are not available on estates.
Lambeth offers subsidised home composting equipment (eg wormeries for food waste and compost bins for garden waste). Find out more from the getcomposting web pages.