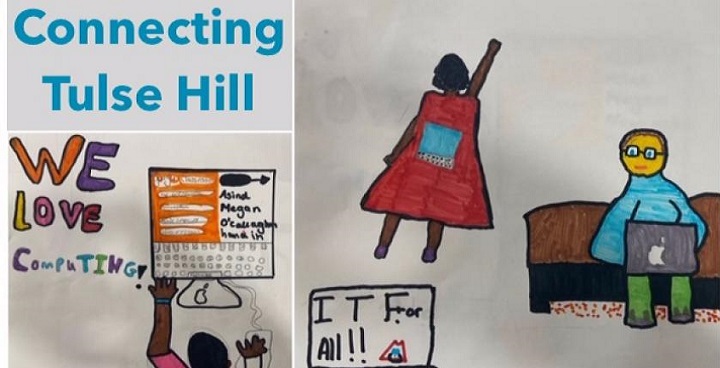 Connecting Tulse Hill asked for pledges to meet their £10,000 target through crowdfunding for laptops and tablets top give vulnerable local people access to schools, services and more during lockdown. 151 local people pledged over 150% of that target so quickly that distribution of connecting IT has already started. Crowdfund Lambeth pledged £5,000, helping the project meet a stretch target of £15,000 and help 100 more people.
Word from the Cabinet
Cllr Donatus Anyanwu, Lambeth Council Cabinet Member for the Voluntary Sector, said: "Coronavirus has made inequality even more of a barrier for many vulnerable individuals and families This Crowdfunder project is an opportunity to enable Tulse Hill residents to access information, to stay in touch with friends and family, and to assist school children with their school work."
Access and connection
Connecting Tulse Hill project is a collaborative effort from Local Tulse Hill  councillors, High Trees Development Trust, Tree Shepherd and Jubilee Primary School.  It's also backed by local schools, and Lambeth Early Action partnership. Knowing that wi-fi access is no longer a luxury in London, but a basic utility for accessing welfare and education during lockdown, but also aware that one in six Tulse Hill households didn't have it, they set out to:
Deliver 90 tablets/laptops to individual or families across Tulse Hill
Buy 30 additional laptops to get children and young people school support; keep people connected via video-calls; and support adult learners to enrol in online training.
Provide 40 households with mobile wifi access during the pandemic
Children from Jubilee Primary School created the artwork for the Crowdfunder campaign as well as great excitement about what it can achieve.
More information
To support or donate to the project contact High Trees or see the Tulse Hill  crowdfunder pages 
Crowdfund Lambeth is a platform to support community projects making our borough a unique place to live, work, learn and do business. The project must demonstrate strong local support shown a vibrant crowdfunding campaign. To be considered for match-funding from Lambeth Council, the project must also meet some simple criteria and must contribute to one or more of the borough plan priorities:
Sustainable growth: a growing economy that everyone benefits from.
Resilient communities: communities that are thriving and connected.
Promote care and independence: people have support to live well and independently.
Place: Make Lambeth a place people want to live, work and invest.
If you have a project or initiative and want to find if you're eligible for match-funding, you can see our criteria and apply online