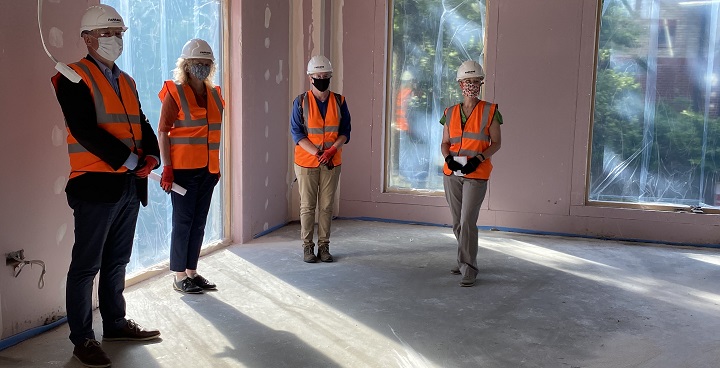 Lambeth Cabinet Members for Health Cllr Jim Dickson and Cllr Lucy Caldicott visited the construction site overlooking Palace Road Nature Garden to see work progressing on 'The Crescent'. They were accompanied by Fiona Connolly Executive Director for Adults and Health and Sandra Roebuck, Director of Infrastructure and Capital Delivery.
Development
Planned for a November launch, Lambeth's new centre on Coburg Crescent will feature a unique mix of services for people with complex disabilities. The development will include a new home for Lambeth Walk day service with enhanced facilities including a gym with a rebound therapy trampoline, short-term accommodation and respite service, and supported living flats which will be offered with assured tenancies.
Links with the community
The Crescent is also designed as a way to develop stronger links with the local community. The shop and café will both serve the local community and Lambeth is committed to agreeing access to the community space for the Palace Road Tenants' Association, for meetings and appropriate events.
Word from the Cabinet
Cllr Jim Dickson, Lambeth Council Cabinet Member for Health, said: "Lambeth is creating a unique mix of services for people with complex disabilities – including cutting edge treatment and living space – that also engages with the community around the Centre.  People with disabilities and their families have had an input on the design and layout of the Centre and we are proud to be making an investment into an excellent new service for Lambeth"
Collaboration
The building's design is the culmination of an extensive engagement process with the Lambeth learning disability community, and collaboration is continuing as we finalise plans for interior design, decoration and furnishing.
Partnership
Partnership is a theme that will continue at the centre once it is complete. Services will be provided by a partnership of Lambeth Council and two local voluntary sector organisations, and officers are already in touch with a range of local and community groups to find ways that services and service users can link with them.
More information
For more information about the Crescent contact the Adult Social Care Team at Lambeth Council.