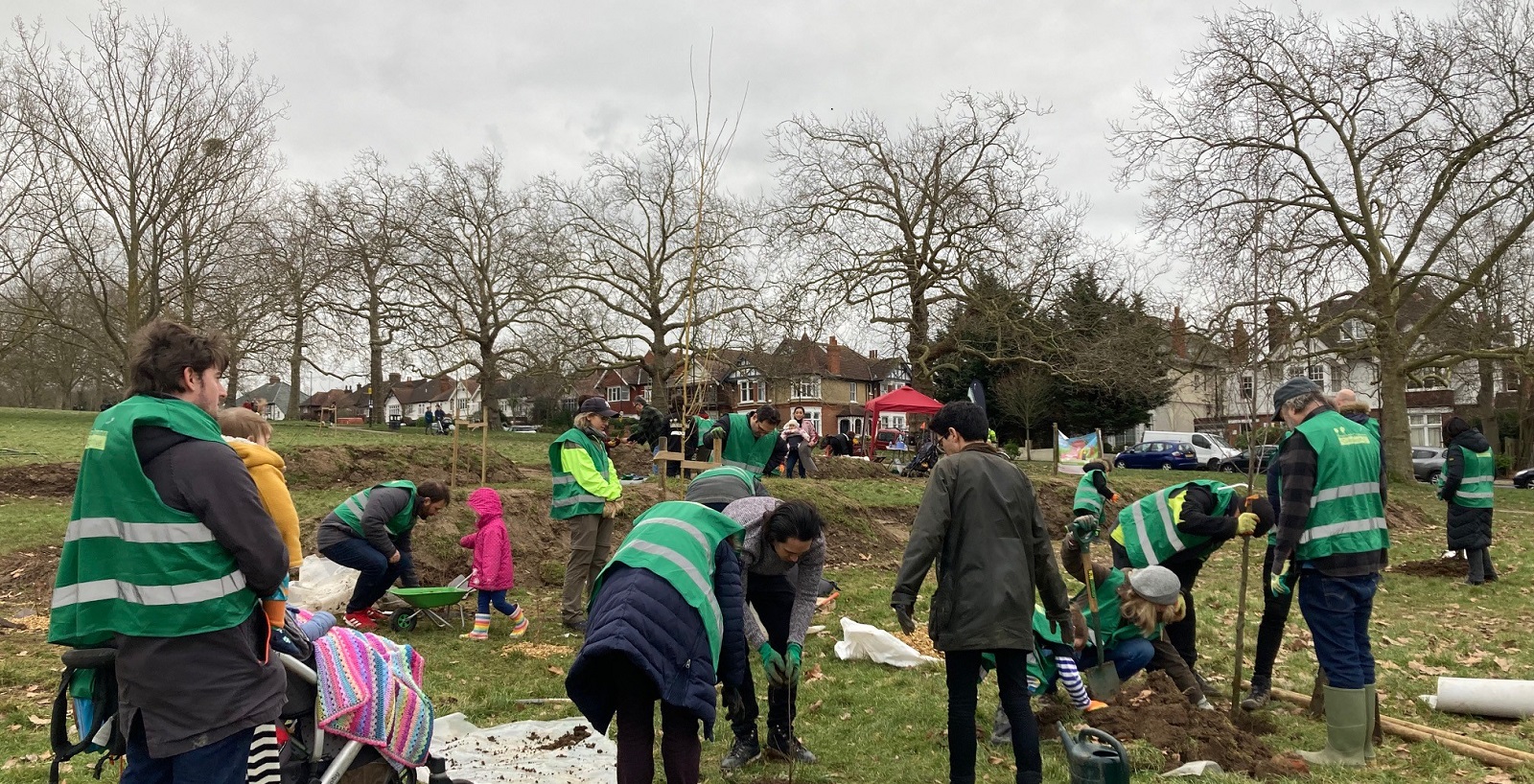 Lambeth's Parks team, Streatham Common Co-operative (SCCooP), Friends of Streatham Common (FoSC)  and local people have worked together to create a new willow wood to manage rainwater and improve biodiversity.
Planting day
Over 150 people of all ages came to a community planting day organised by SCCooP on the site near the Rookery café on Saturday February 4. Everyone said it was amazing to see this happen on the Common, and it was an excellent idea.
The day before, Lambeth's Tree team did a masterclass in planting with conservation volunteers, spreading knowledge of how to plant and stake new trees properly.
Catching rain
Three rainwater-garden scoops have been dug to capture rainwater at storm surge times, so water is always available to the trees, and helping to alleviate potential flooding in other parts of the area. The whole Common has potential to hold a great deal more rainwater, particularly from summer storms when the soil is dry and baked.
Word from the Cabinet
Cllr Rezina Chowdhury, Cabinet Member for Sustainable Lambeth and Clean Air, said: "This new willow wood is being created to build a better environment – as well as creating a habitat for butterflies, moths, birds and other wildlife, it will benefit people by capturing surge rainwater into new sculpted contours in between. This will both keep the tree roots supplied with water and help to reduce the risk of ground flooding. Lambeth's Climate Action Plan sets goals for increasing green coverage by 15% by 2028 – including our commitment to planting 5,000 new trees by 2026".
Spring flowers
In the next couple of weeks, school children will make the new wood more wildlife-friendly, planting damp-loving wildflowers such as meadowsweet and purple loosestrife in the bottoms, making places for frogs, toads and newts to live.
Grow Back Greener
SCCooP said: "What a wonderful few weeks, working with Lambeth to create a Willow Raingarden. The works will help with flood/mud mitigation AND improve biodiversity. Thanks tp the Streatham community for all their hard work"
Thanks from the partners to the Mayor of London's Grow Back Greener Fund for the grant of £18,562.00 making this environmental work possible, with match funding from Lambeth's trees budget.