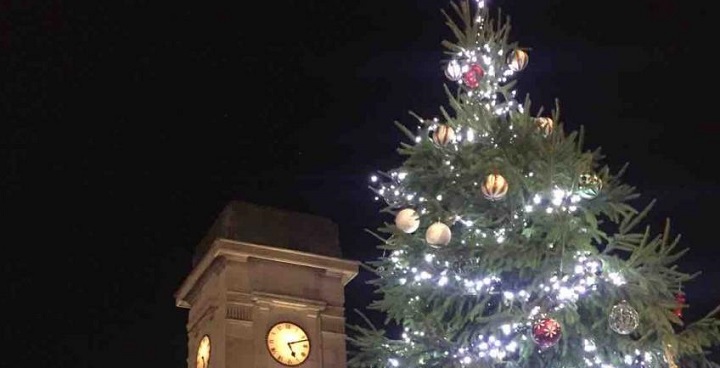 Lambeth Council added a maximum pledge of £1250 (50% of the target) to community crowdfunding for Stockwell's Christmas Tree.
Community spirit
For several years, Stockwell has missed its Christmas tree. This year, the groups involved in 'Thriving Stockwell' crowdfunded to bring it back, as a focus for celebrating the fantastic community spirit in the neighbourhood. Local people hope the Christmas Tree lighting-up ceremony will inspire people to use the new Memorial Gardens area (site of the Lambeth War Memorial) as a space for community events.
Heart of our neighbourhood
"It's wonderful that crowdfunding by local residents – with match funding from the Council – has brought back our Christmas tree. I'm looking forward to the lighting-up ceremony when people from all over Stockwell will be singing and celebrating together. The Stockwell Christmas tree literally lights up the heart of our neighbourhood in the gloomiest part of the year." – Alcina, Portuguese Hug Group.
Lighting-up party
We have a 19-foot tree being delivered. Lambeth Council will put up the lights and fund the electricity. We will spend some of the crowdfunding on mince pies and light refreshments at the lighting up party.
For more information
Crowdfund Lambeth is an online platform supporting new community projects and initiatives. Local people can donate to support projects in the borough. If the project generates enough support, the Council may contribute 50% of your funding target up to a maximum of £5,000.  Your project will need to support priorities set out by local people in the Cooperative Local Investment Plans (CLIPs).
For more about getting your project off the ground with Crowdfund Lambeth
Thriving Stockwell is a network passionate about working together to create a flourishing and active community. Members include the new Stockwell Primary Care Network, "StockWellbeing"'s five GP practices, LEAP Stockwell Early Years Forum, Stockwell Partnership, the Lambeth Portuguese Wellbeing Partnership, local arts anchor organisation Art4Space, Hyde Housing, the Guys & St Thomas' Charity, local pharmacies, Morley College, a local private sector developer, Lambeth Council, Lambeth NHS CCG, the PPG, and residents. Thriving Stockwell is open to anyone. To find out more, or get involved contact Steve or Will.
Lighting-up Ceremony details