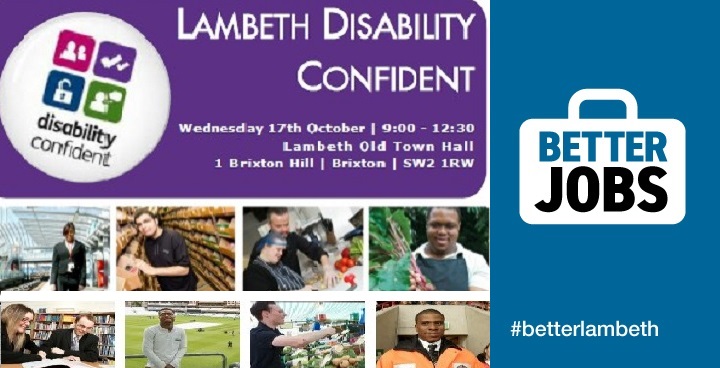 Lambeth Town Hall hosts a day dedicated to Disability Confident – the government scheme designed to help employers recruit and retain people with long-term health conditions for their skills and talent. It's a free, drop-in event for people with visible and invisible disabilities and carers, no booking needed.
Assistive technology
The day features examples of how employers assist people with long-term health conditions in the workplace. There will be presentations on assistive technology – screen readers, magnifiers, and more. We also expect employers with live job vacancies on offer throughout the day, and advice from the DWP.
Supporting people into work
The day is co-hosted by the Camden Society who regularly partner with Lambeth Council to support people with long-term health conditions.
The business case for a diverse workforce
Helen Smith, Employment and Learning Service Manager from the Camden Society says: "We are looking forward to co-hosting a second Lambeth 'Disability confident' event at Lambeth town Hall. We have a lot of inspirational speakers to highlight the business case for employing a diverse workforce, highlighting the support available to both employers and potential candidates. All attendees will get to network and discuss potential opportunities.
---
For more information
The event is from 9.30am on Weds 17 October at the Assembly Hall, Lambeth Town Hall.
The Camden Society can now act as a Disability Confident champion providing support and assessments for other companies wanting to become Disability Confident. The Camden Society is celebrating 50 years of supporting disabled people to live the lives they choose. See our information pages
If you're an employer, Disability Confident could help you discover someone your business just can't do without. See their information pages