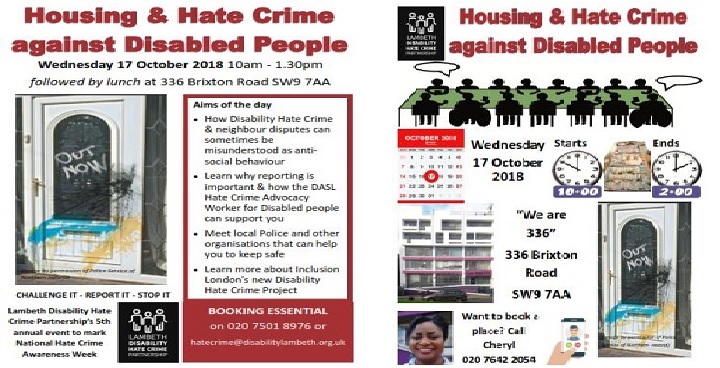 Disability Hate Crime is often mistakenly reported as anti-social behaviour or low-level harassment. And when it's not reported as hate crime, disabled people continue to suffer, sometimes with tragic consequences.
Awareness event
This National Hate Crime Awareness Week event, organised by DASL with the Lambeth Disability Hate Crime Partnership, is for anyone who wants to know more about identifying and reporting hate crime and how to get support if you are, or if you know, a disabled person who is a victim of a hate crime.
"Should be a right"
David Strong, DASL Director, says: "Keeping safe and enjoying life without daily verbal harassment, physical threats, bullying or worse should be a right for all Disabled people. Sadly, through the work of our Hate Crime Advocacy service, we know that many Disabled residents have been victims of sustained and long-term abuse by neighbours that has had a devastating impact on their life".
Aims of the day
How Disability Hate Crime can be misunderstood as anti-social behaviour
Why reporting is important and how DASL's Hate Crime Advocacy Worker can support you
Learn more about Inclusion London's new Disability Hate Crime Project working with Deaf and Disabled People's Organisations to develop support services across London
Information stalls, speakers, lots of time to talk to each other, meet with local Police, Housing providers, local Police and other organisations that can help you to keep safe
---
For more information
For details of this event and to book your place see the Council's Events Calendar
Disability Advice Service Lambeth (DASL) works in partnership with other charities that can support victims to develop new friendships and social lives as part of their recovery after being a victim of Disability Hate Crime. DASL are the lead organisation of the Lambeth Disability Hate Crime Partnership formed in 2014.
Reports of Disability Hate Crime are increasing year on year. For more details see these information pages from the BBC; from the Lambeth Disability Hate Crime Partnership and from DASL
For more about other kinds of Hate Crime and what's happening during National Hate Crime Awareness Week 2018 see their information pages
This event is part of 2018 Disability Awareness Month. Lambeth's Equality Commission is supporting it as part of our campaign to raise awareness of disability.