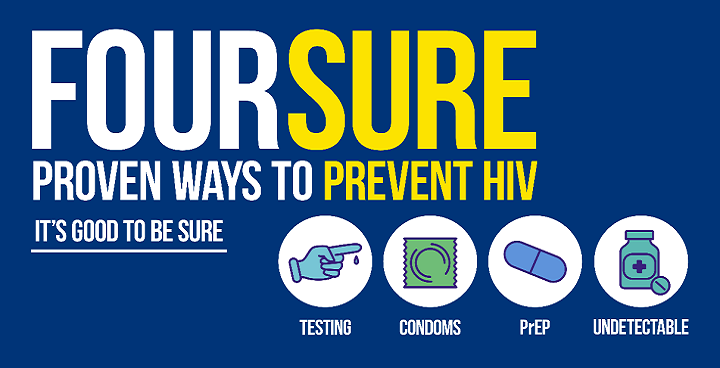 London boroughs have launched a campaign highlighting the importance of HIV prevention.
A summer of easing restrictions
A pan-London campaign highlighting the 'four sure' proven ways to prevent HIV has launched today.  The Do It London campaign – a collaboration between local authorities in the capital – reminds Londoners that HIV is preventable, that an HIV diagnosis is treatable, and that treatment acts as prevention.
The major advertising burst will see information about HIV prevention posted across the TfL network, on 110 roadside billboards, 80 buses and 300 telephone kiosks. The campaign is also live on digital and broadcast radio, social media, digital media and pay per click.
Confidence in what works
 Do It London raises awareness of the methods of preventing HIV to groups most at risk in a determined effort to continue the encouraging recent downtrend in new HIV infections.
The FOUR SURE methods of the combination prevention approach are:
testing regularly for the virus
using condoms
using the HIV prevention medicine Pre-Exposure Prophylaxis (PrEP)
for people who have been diagnosed HIV positive, achieving an "undetectable" viral load through the use of antiretroviral medication. This safeguards the health of people diagnosed with HIV and has the additional benefit of treatment acting as prevention and eliminating the risk of onwards viral transmission.
Word from London Councils
Cllr Danny Thorpe, London Councils' Executive Member for Health & Care, said: "HIV has never gone away as one of London's major public health challenges and boroughs are determined to help Londoners protect themselves and each other.
"This campaign is a crucial reminder of the four sure methods of HIV prevention. By raising awareness and supporting Londoners to make healthy choices, we're confident that London's new diagnoses will continue to fall."
 Building on record levels of engagement numbers
The December 2020 'Four Sure' Do It London campaign  produced some of the most impressive outputs since the London HIV Prevention Programme (LHPP) began in 2014,  including the highest ever number of visitors to the Do It London website and a record number of home HIV testing kits ordered:

The 2020/21 campaign phase ran for three months compared with 2019's five, but total page views exceeded previous records by 223% (up from 86,564 to 278,410).  Unique page views increased 87% (from 35,769 to 67,030).
A total of 544 home HIV testing kits were ordered via the Do It London whilst the campaign was live – an average of 41 per week.
For more information
For more information visit doitlondon.org