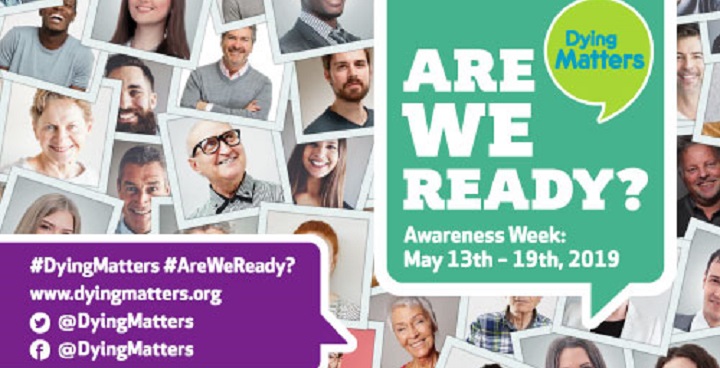 This national awareness week, coordinated by Hospice UK, gives us an unparalleled opportunity to talk about dying, death and bereavement as a natural part of everybody's life cycle. Dying matters Week runs 13-19 May with a preview day on Tuesday May 7. All events are free but some require booking ,
Timetable
Our local programme includes: films, a play, discussions, and information workshops on how to plan your future care
Tuesday 7 May
Short film 'Crepes' with director Sweta Tagliabue and Compassion in Dying. 7pm, Upstairs at the Ritzy Cinema, SW2 1JG
'Before I Die…' wall at Brixton Ritzy is open from Tuesday May 7 to share your bucket list dreams.
 Monday 13 May
Searching for Meaning' documentary St Christopher's Hospice 30pm-4.30pm, 51-59 Lawrie Park Road, SE26 6DZ. booking required
 Tuesday 14 May
'A Wake in Progress' play St Thomas' Hospital – 6pm-8pm, St Thomas' Hospital, Westminster Bridge Road, SE1 7EH – booking required
Living every moment: what death can teach us about living fully panel discussion with Royal Trinity Hospice 6pm, 30 Clapham Common Northside SW4 0RN – booking required
Wednesday 15 May
Myth-busting Afternoon Tea: The truth about CPR with Healthwatch Lambeth – 3pm-4pm, 336 Brixton Road SW9 7AA booking required
Death Café with Royal Trinity Hospice – 6pm-7.30pm, 30 Clapham Common Northside SW4 0RN booking required
Thursday 16 May
Carers Voices: Three ways you can plan for your future care with Carers Hub Lambeth and Compassion in Dying 10.30am-12pm, 336 Brixton Road SW9 7AA
Dying Matters: What we can do to help you with Hurley Clinic Patient Participation Group and Age UK Lambeth 6pm-8pm, Durning Library, 167 Kennington Lane SE11 4HF
For more information
To book, visit our information pages or call Healthwatch Lambeth, tel: 020 7274 8522
These events have been put together by members of the Lambeth advance care planning consortium, an open network of organisations working to promote the benefits of planning ahead for a time when you may be unable to express your wishes about care and treatment options: