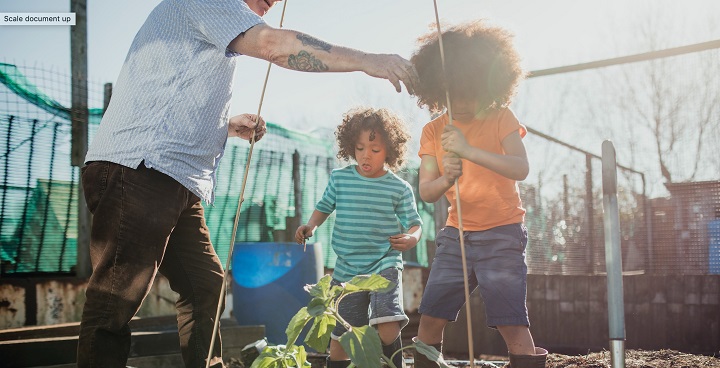 Comic Relief is giving Family Volunteering Club funding to expand the programme of working with Lambeth charities over the next 6 months.
Family-friendly projects
The volunteering sector is full of fantastic people who give up their time to causes that mean something to them. When my son was born I stopped volunteering, because places weren't suitable for children. Friends agreed, so I spoke to some charities and families about creating a programme of volunteering opportunities designed for kids to get involved alongside their parents / carers – and Family Volunteering Club was born!
Home in the community
2020 has shown how being part of a supportive community is more important than ever, especially in cities, which at times can feel lonely. We believe in kids growing up feeling their local community is their home, somewhere to they want to spend time and make better. In the Family Volunteering Club kids and adults give a bit of free time, come together and help a local charity with tasks which are family friendly and fun – but still much needed.
Word from the Cabinet
Cllr Donatus Anyanwu, Lambeth Council Cabinet Member for the Voluntary Sector and Leisure, said: "We're thrilled to see Lambeth's charity sector respond so wholeheartedly to this innovation. Family Volunteering Club helps create projects that inspire children to be positive about volunteering and gives parents a way to share with them in building the community."
Creating opportunities
The pilot programme in Autumn 2019 included sessions created and run with the London Transport Museum, Draper Together, Bankside Open Spaces Trust, Ronald McDonald House, Waterloo Foodbank, Coin Street Neighbourhood Centre and ​the Garden Museum. It welcomed over 40 families (plus a lovely nursery group) to over 110 newly-created volunteering opportunities for kids and grown-ups to share. They said:
​"Exposing my child to gardening – something we can't do in our London flat! -and spending time with other local parents is fun."
"Interactive, well run, friendly organisers, meeting other local families with children the same age, safe space for kids, feeling of helping."
​"I loved the freedom of being able to do as much as you could, while having your children there."
Our long-term goal for the project is to have Local Coordinators across the UK creating family friendly volunteering programmes with a network of local charities.
More information
If you're interested in piloting the project in areas outside London or supporting us in another way, please contact Family Volunteering Club maddy@familyvolunteeringclub.co.uk
For more about the volunteering sessions see Family Volunteering Club's information pages.