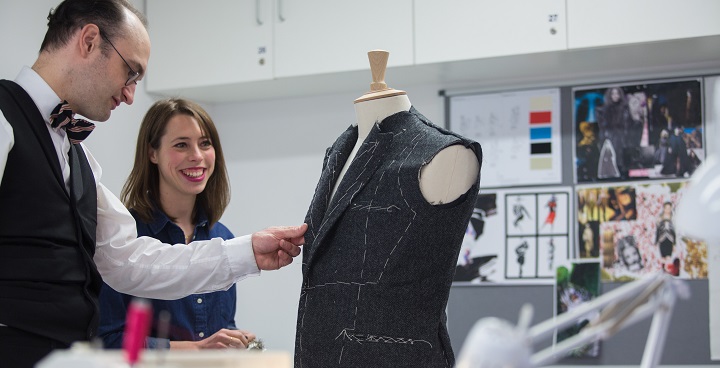 If you're interested in trying something new, meeting people and perhaps even discovering a hidden talent then I'd recommend trying one of the short Fashion courses at Morley College as a good place to start.
Attend a talk by an industry insider at London Fashion Weekend. Then sign up for one of our courses at Morley College.
The London Fashion Weekend Talks Programme includes a series of intimate Q&A interviews and panel discussions with industry experts. You'll have the chance to ask questions and gain exclusive access to these inspiring industry leaders.
Talks & speakers include the following:
Accessories designer, Sophia Webster
Savile Row Tailor, Patrick Grant (of BBC's The Great British Sewing Bee.)
Creative Director of Lingerie Brand Agent Provocateur, Sarah Shotton.
Fashioning a Reign: 90 years of Style from the Queens Wardrobe.
Careers in Fashion
Find out about the London Fashion Weekend Talks.
Many of our courses at Morley College link well with these talks. Specialist courses include: 
Designer Bags and Handbags
Tailoring for Men & Women
Lingerie: Making Bras and Underwear
Vintage Style Bridal & Evening Wear
And many more
Morley fashion tutors have industry experience in a wider range of specialisms, from Fashion Design and Drawing to Pattern Cutting, Sewing, Millinery, Children's wear, Costume, Corsetry, Couture and many others.
Find out more on the Morley College website.
Whether you want to develop skills in fashion for your own personal interest, or to help you progress onto further or higher education, Morley College offers a range of fashion courses to meet your needs. You may have aspirations of changing career or starting your own business in the fashion industry.
Courses vary from a weekend to a term-long and are aimed at a range of ability levels from absolute beginners to advanced. For those wanting to pursue a Level 3 Qualification in order to apply to University we offer Access to Fashion run in partnership with London College of Fashion.
Morley is London's top ranked College for learner satisfaction (FEChoices Survey 2015)
If you have any questions or to enrol call us on 020 7450 1889 Monday to Friday from 9:30am to 5pm (until 4pm outside term-time.)