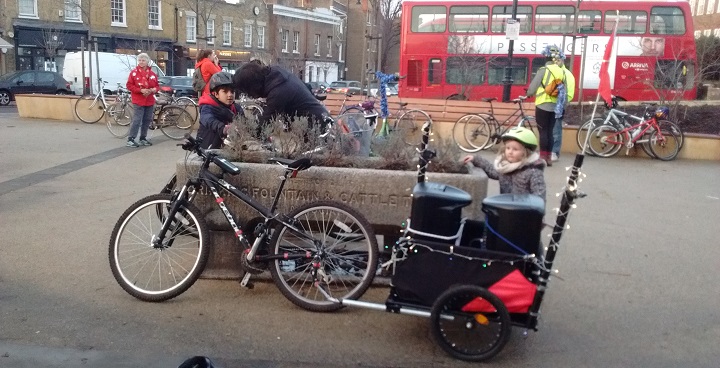 Back again for 2018 our fabulous Festive Lights Ride brings together new, returning and existing cyclists of Lambeth and surrounds. We have Omnibus Theatre animating the ride, Cycle Confident helping us navigate safely around the route and Wheels for Wellbeing (WfW) providing adapted cycles to make the ride fully inclusive – this year's ride is not to be missed!
Route planner
We will be meeting at 3.30pm on Sunday 16th December at the Polygon where you should visit the outdoor box office with your ticket info. We will then set off from Clapham at 4pm and it should be noted that the ride will end in Lansdowne Gardens, SW8.
Sounds and lights
Our family friendly, adapted cycle-accessible route will take in some of the sights of Lambeth and includes some of our best quiet cycle routes. Expect to see performances and lights, and enjoy the soundscapes and music.
For adapted cycle users
If you cannot use a standard two-wheeled bike, please let us know by email before 2nd December so that we can arrange for you to find an adapted cycle that suits you ahead of the event. WfW will then transport the cycle to the ride and support your journey.
If you don't have a bike
Additionally if you need to borrow a standard bike, please let us know with plenty of notice and we will attempt to supply you with a bike.
For more information
Buy tickets at Eventbrite. Tickets are £3 per adult and free for children under 16 accompanying a paying adult. Please email with the numbers of children per adult ticket so we can safely plan for numbers.
Follow Lambeth sustainable travel team on Facebook